Our Location
536 LINTON STREET @ READING ROAD CINCINNATI, SOUTH AVONDALE, OHIO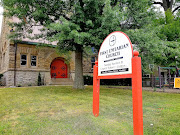 Located three miles north of Fountain Square on Reading Road, our community meets in a graceful, historic building dating from 1889.  The location sits dramatically on the cusps of the University of Cincinnati, the expanding perimeter of Cincinnati's Children's Hospital Medical Center, and the inner city community of Avondale. It is two blocks from the major economic redevelopment project along Martin Luther King Drive. This diversity of the community just outside of the "Red Doors" of First Church presents an ongoing and exciting welcoming and social justice challenge to our ministry.  
Office Hours, Accessibility, and Parking
The congregation's office is open from 9:00 a.m. to 1:00 p.m. Tuesday, Wednesday and Friday. The Church is open 9:30 a.m. to 12:00 p.m. on Sundays.
To enter during open office hours use the entrance on the south side of the building facing Linton Street. The door remains locked for security purposes. There is doorbell on the left-hand wall of the entranceway. Press hard.
The Linton Street entrance is completely wheelchair accessible, as is the entire building. When events are held in the sanctuary (for worship, weddings, memorials, and more), the doors are opened and supervised by our MVP volunteers. Our parking lot is directly across Linton Street and can hold 100-plus cars.
Directions
Our Google Maps link offers you door-to-door directions for driving, walking, biking, or public transit.
Public Transit
The Lockland – Government Square bus route 43 arrives at Reading & Oak Street from Government Square in 22 minutes
From Westwood at Montana & Wunder, bus route 51 "Uptown – Hyde Park – Oakley" reaches Burnet & Goodman in 55 minutes
From Anderson Towne Center, bus route 24 "Anderson – Uptown – Downtown" reaches Martin Luther King & Reading in 53 minutes