Current Newsletter

Sunday February 12, 2023
---
WELCOME TO YOU
We welcomed six new members to First Church on January 15 and we wanted to take a moment to share the faces of these newest members. If you haven't met them in person, keep an eye out to make a new connection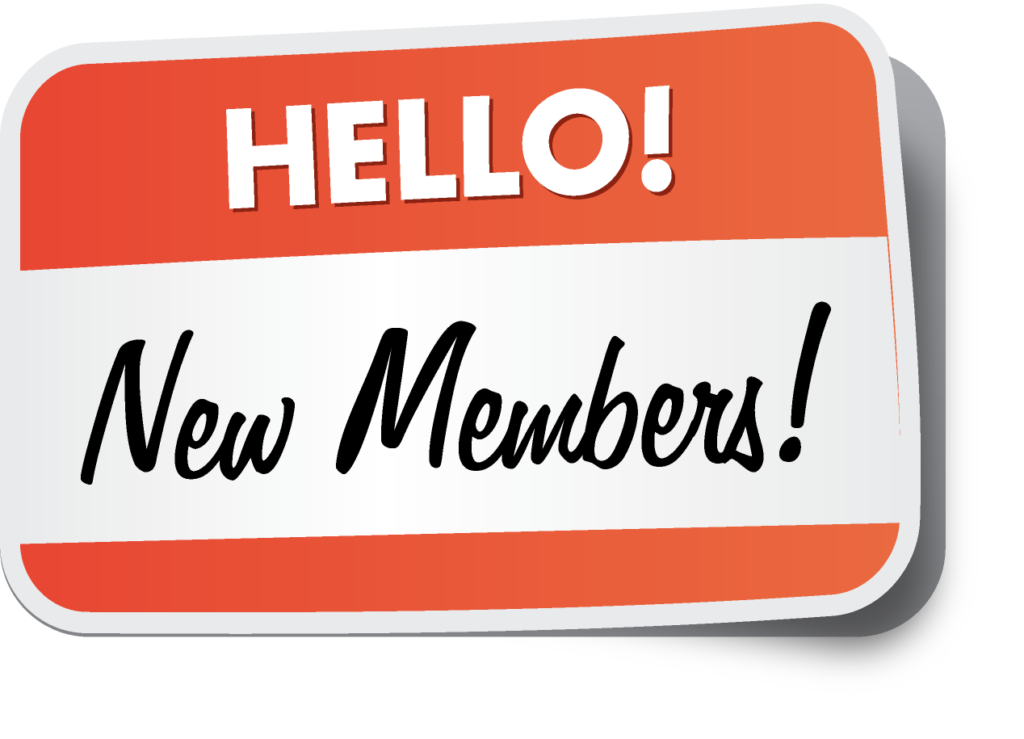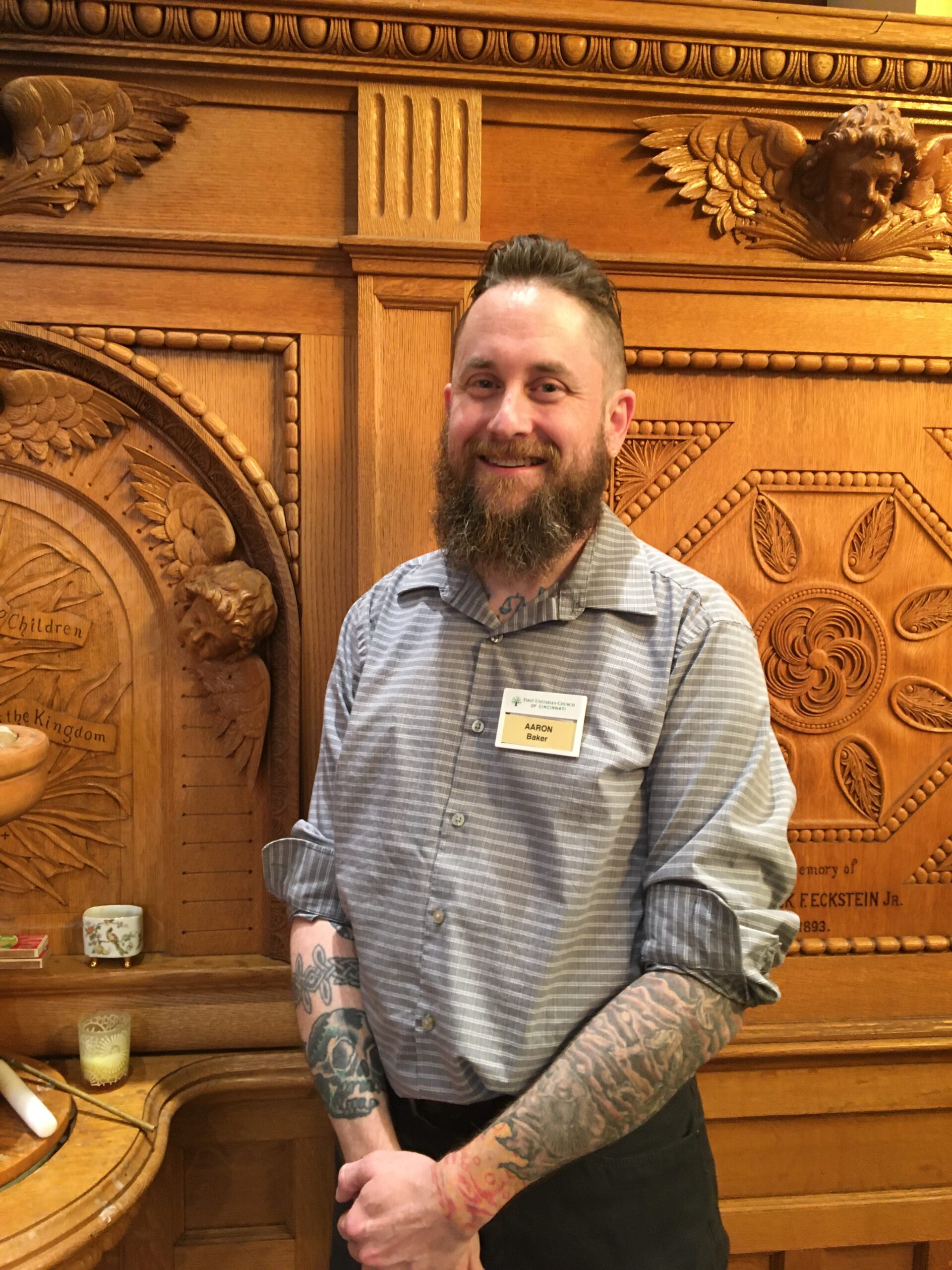 Aaron Baker
Aaron lives in Frankfort, Kentucky, where he spends his time caring for his family and renovating his house. Although he grew up in the Methodist church, Aaron is agnostic. He was raised in a family with a strong commitment to social justice. As a public defender, he has made a career of helping people that others don't always see as worthy of help. Aaron was introduced to the UU Church by his partner Katie Price, and is joining because his views align with the liberal tradition of the church.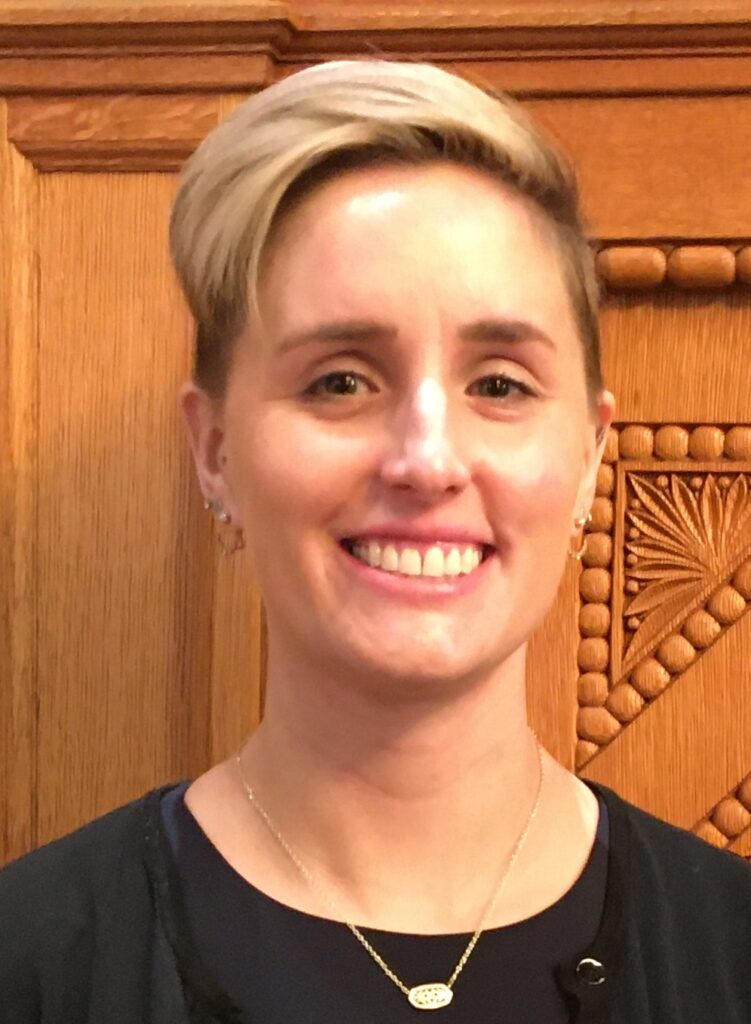 Amanda Jo (A.J.) Combs
A.J. is a licensed social worker and individual therapist for adults and children in Middletown, Ohio. Her hobbies include the humanities, especially dancing and listening to music. She is into Celtic culture and loves to attend Irish festivals in the summer. She grew up in the Southern Baptist church community and was looking for a denomination that better suited her social justice interests, including women's rights.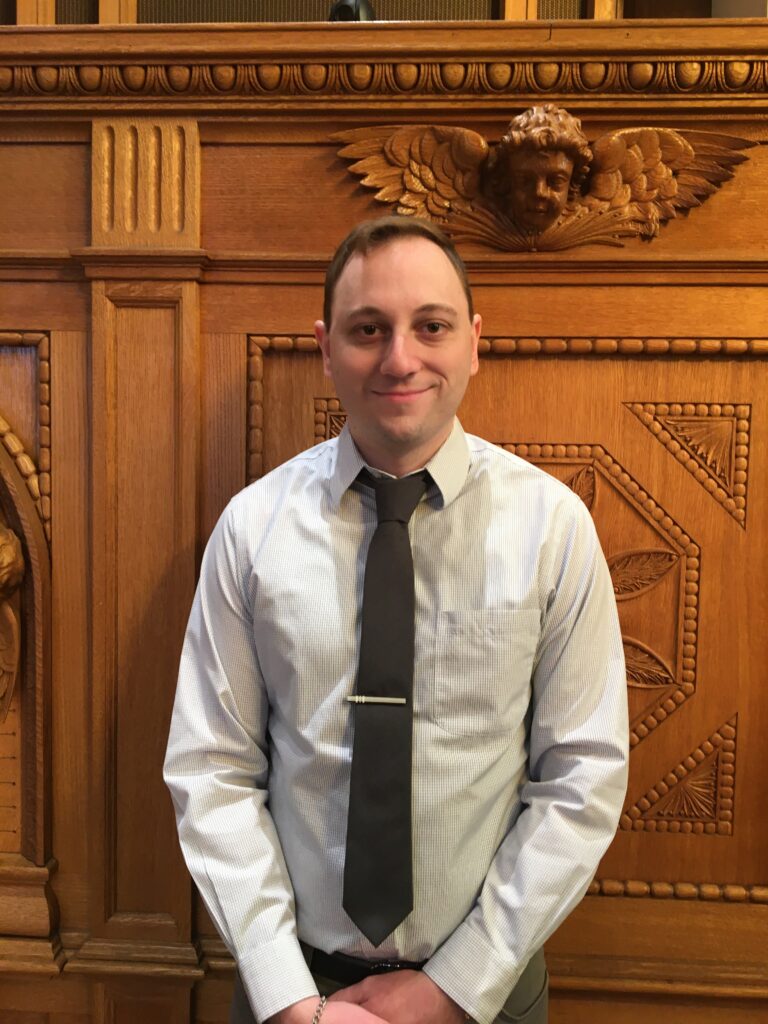 Kyle Lewis
Kyle grew up in Carlisle OH about 30 miles north of Cincinnati and attended Presbyterian church until he moved out on his own in 2011. He is interested in all things science and currently work as a scientist at a clinical trial company. In his free time, Kyle enjoys hiking, running, and playing drums. He has played drums in the First UU house band a couple times and looks forward to playing more.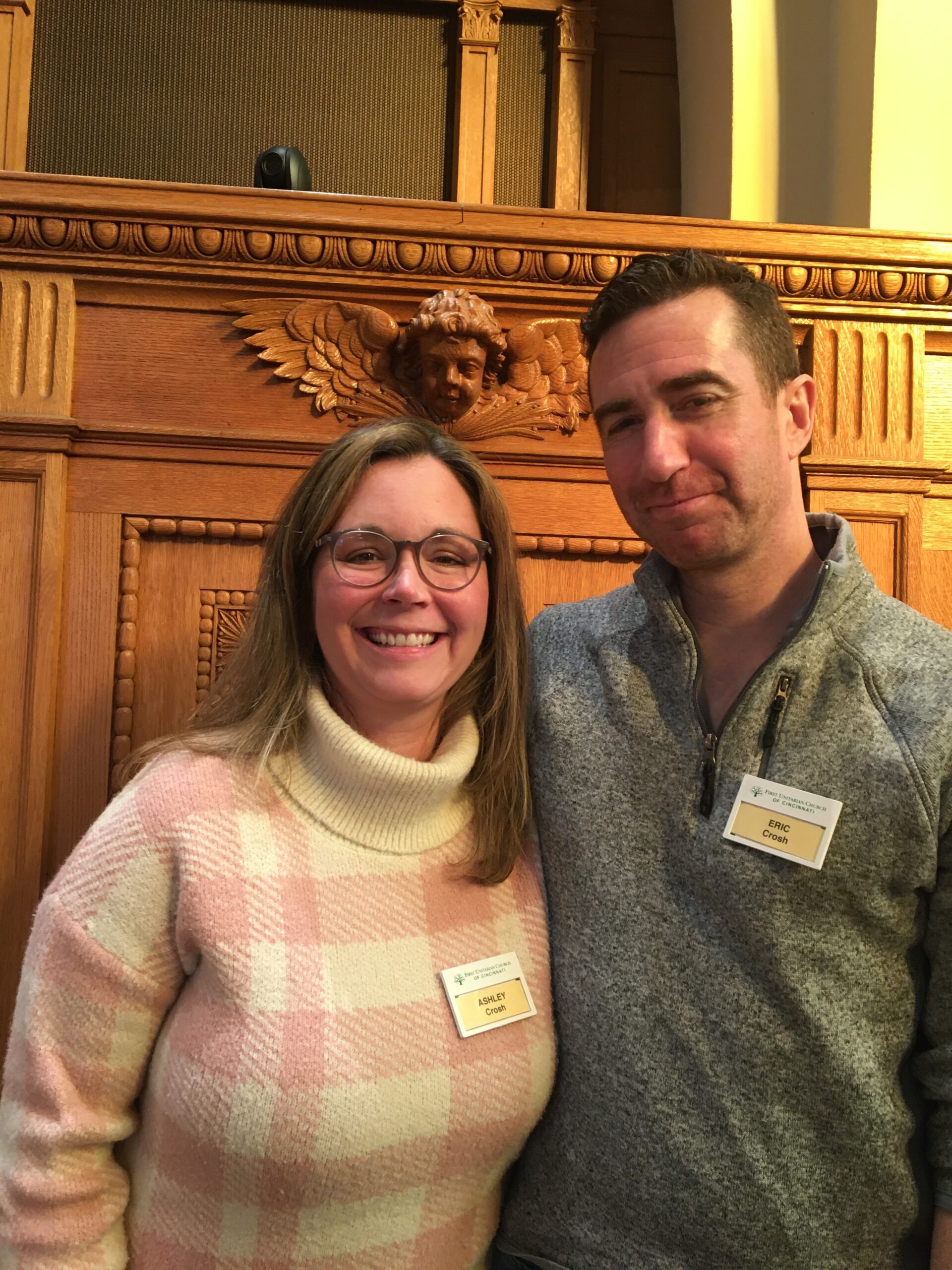 The Crosh Family – Eric, Ashley,
Camden (age 7), Amelia (age 5) and Lincoln (age 2)
Eric was raised in the suburbs of Chicago and grew up attending the Unitarian Church of Evanston. Ashley was raised primarily in the Cincinnati area and didn't grow up tied to a particular faith or church. In 2015, they were married by Sharon Dittmar and have occasionally visited the church over the years. Eric and Ashley are eager to join this supportive community – a place where they can, as a family and individuals, grow their spirituality, morality and faith.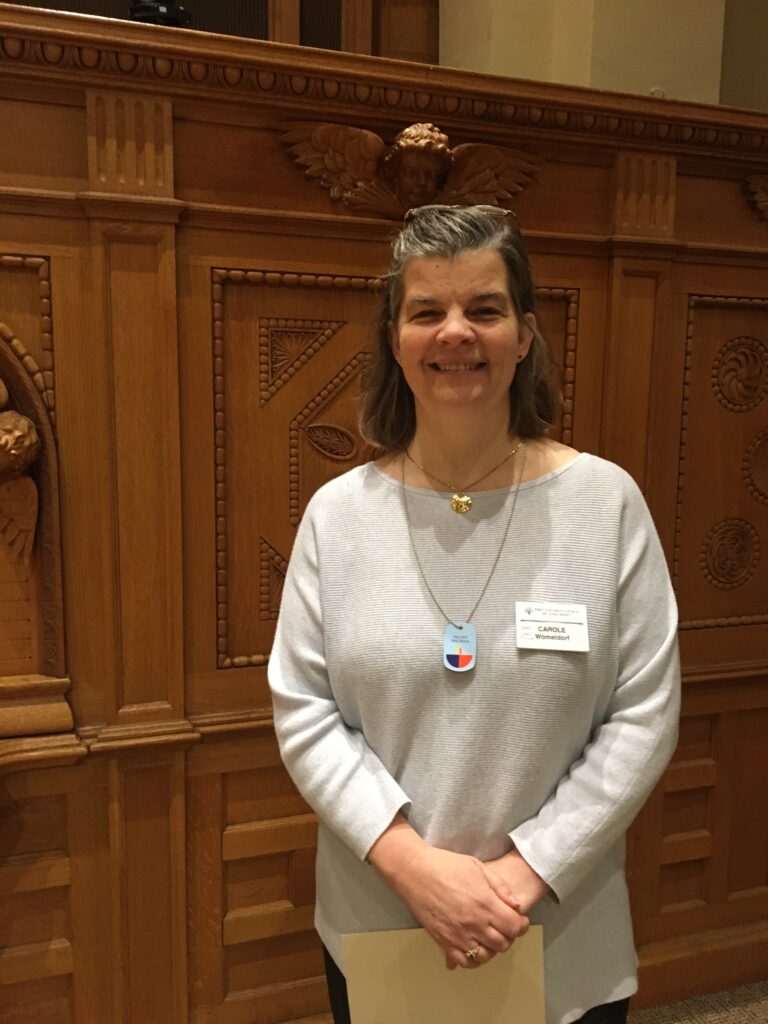 Carole Womeldorf
Carole Womeldorf grew up with and through UU congregations from Rockville MD, Providence RI, Athens OH and most recently the Gathering at Northern Hills here in Cincinnati. She's an equity-focused educator. She's studied African American literature and mechanical engineering; she loves and lives for sailing, cooking, justice, family, adventure, mentoring, and the outdoors. She is married to her life partner, Ralph Whaley, and mom to three young (almost) adults – Dani, Katie and Alex – and one basenji, Basil.
---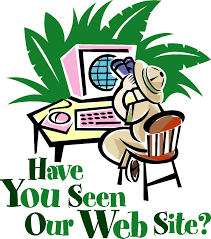 IT'S BRAND NEW !!!

The First Church Website Redesign Team is excited to announce our new and improved www.firstuu.com!
We have been on a journey over the past 13 months to curate and organize content, update and modernize site design, and improve navigation. We are grateful to everyone who contributed their time and talent in this project. Thank you to all who provided input, proofreading, writing, photos, and feedback.
The new site is live! The navigation flow is consistent with the UUA's research on how people prefer to click through websites. The design is optimized for desktop, mobile and site accessibility. It is presented as both a work in progress and a living communication tool that will grow week-by-week and month-by-month, as our community does the same. Our new site provides the ability to add/update content much more efficiently and simply – a huge improvement vs. our prior website.
Please check it out at www.firstuu.com. As you have feedback and ideas to share,
please write to website-feedback@firstuu.com.
Your Website Redesign team
Allison Erwin, David Johnson, Doug Rohrer,
Phillip Schaefer, Martha Walker and former
Office Administrator Reanna Andrews
---

ALL ARE WELCOME
TO JOIN OUR SERVICES!
We continue to gather every Sunday both in person and online at 10:00 a.m.
Our building is opens at 9:30 for worship and coffee hour.
Masks are not required, but encouraged for those with health concerns.
Vaccinations are very highly recommended.
For the health and safety of our community, please respect our COVID protocols.
If you choose not to attend in person, you may watch our services at anytime on YouTube.
https://www.youtube.com/c/FirstUnitarianChurchofCincinnati/videos.
For more information on how to join our community events
Email member-care@firstuu.com.
This Sunday
Join us at 10:00 AM for
Heart to Heart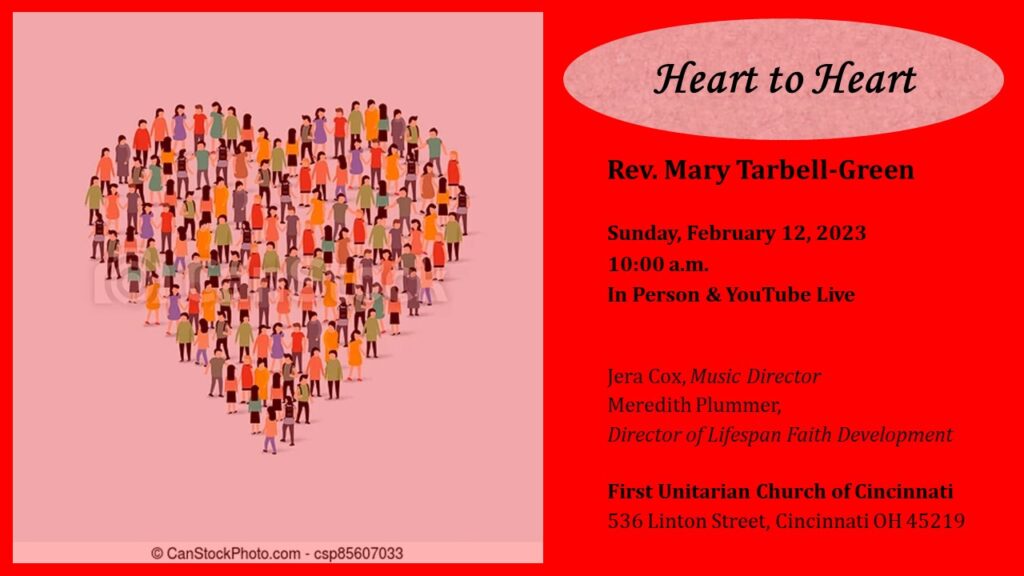 Rev. Mary Tarbell-Green, our pastoral care associate and resident chaplain, explores how we are weaving together a beloved community—loose threads, knots, and all.

Can't come in person? Watch the service on YouTube at 10:00 AM Sunday.
This Sunday's service can be found here:
https://www.youtube.com/watch?v=Vl77ld_bzsE
For more information on how to join our community events
Email member-care@firstuu.com.
---
FINAL COVENANT LANGUAGE
READY FOR YOUR VOTE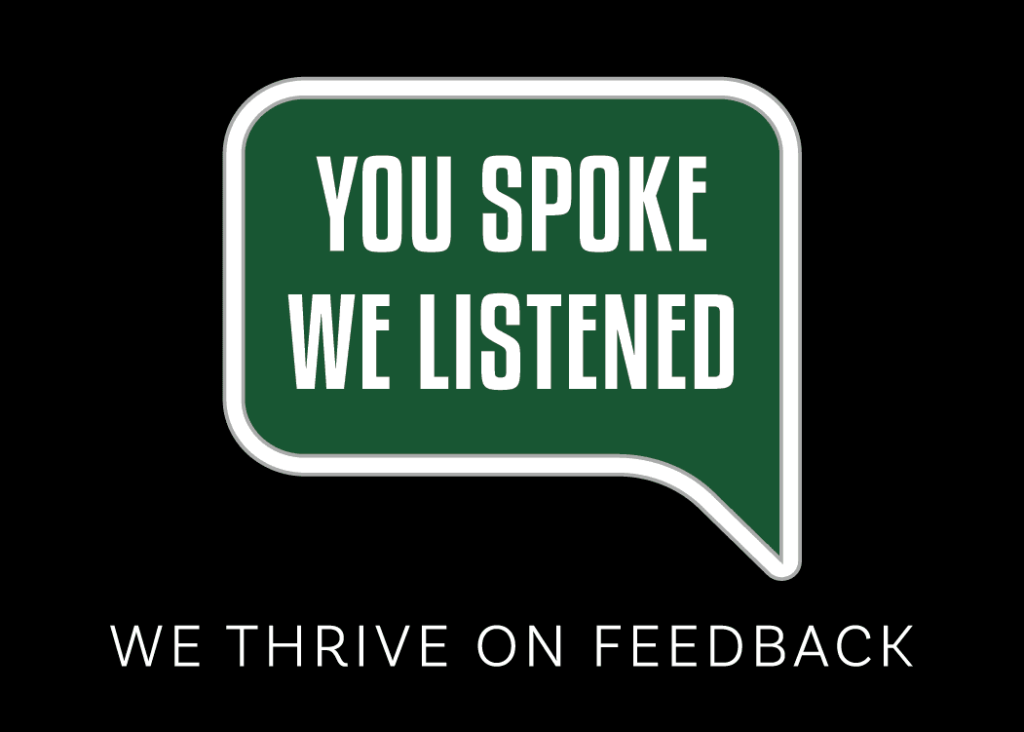 You spoke and we listened! The Committee on Right Relations took feedback and input from four listening sessions (including two terrific sessions with our church's Youth) as well as a number of emails and conversations to hone and improve our draft of the Covenant (see attached). More than 50 individuals participated with their time, hearts, and minds.

We are pleased to present this version for your marination, consideration, and rumination. We will present this version for a vote at the May Congregational meeting. You can expect to see versions of it (marked as "To be voted on at May 2023 meeting") posted and floating around until then.

Now that we have this final version, we will seek input in the coming months about how best to include our covenant in the life of the church.

However, more urgent is CRR's work of creating a churchwide Conflict Resolution Policy. We will seek inputs on that very important policy from First Church stakeholders and best practices resources at the UUA, as well as others.

Thank you so very much to those who shared their ideas, and to those who have supported in many ways this important effort to this point.
Rozy Park
For Committee on Right Relations
ºººººººººººº
TO BE VOTED ON AT MAY 2023 MEETING
FIRST UNITARIAN CHURCH OF CINCINNATI
CONGREGATIONAL COVENANT
I commit to build our Beloved Community –
To hold myself accountable to the values of Unitarian Universalism,
To love and respect all creation,
To listen with an open mind, and work for justice and inclusion,
To have courage to change,
To accept the rights and responsibilities of myself and others,
I humbly covenant with you so that together we can do what I cannot do alone.
LIVING OUR COVENANT
1. Be courteous and respectful to all – those in leadership positions, fellow members, visitors,
and staff.
2. Assume one another's good intentions.
3. Participate in the life of the church where and when possible.
4. Seek accurate information.
5. Listen to and acknowledge all perspectives with the goal of understanding.
6. Resolve conflicts at the lowest level.
7. Forgive yourself and others.
8. Accept and follow church Bylaws created by Congregational vote and policies and procedures
established by the Board.
---

Contributions to the February Share the Plate will benefit Greater Cincinnati Coalition for the Homeless. The Homeless Coalition is a unified social action agency committed to the eradication of homelessness, with respect for the dignity and diversity the people they serve, people experiencing homelessness and the community. Our Coalition works towards this goal by coordinating services, educating the public, and engaging in grassroots organizing and advocacy. The Coalition started in May 1984 with 15 members in an unheated church basement. Today, they are a force of over 60 agencies and hundreds of individual members and supporters. Here at First Church, we see the work of the Homeless Coalition in the weekly distribution of Streetvibes. However, the Coalition does much more, including advocacy to preserve the rights of people experiencing homelessness and to enact just social policies. They provide educational opportunities to churches, companies and schools in our region. Overall, they coordinate the efforts of member agencies to leverage the resources and support to our unhoused community members.
Please make checks payable to First Unitarian Church of Cincinnati with Greater Cincinnati Coalition for the Homeless in the memo line. Mail your check to: 536 Linton Street, Cincinnati, Ohio 45219. You may also make your donation online through Breeze by Clicking Here. At "Add Gift to Another Fund" click on "Give to Share the Plate February".
---
HONORING BLACK HISTORY MONTH LOCALLY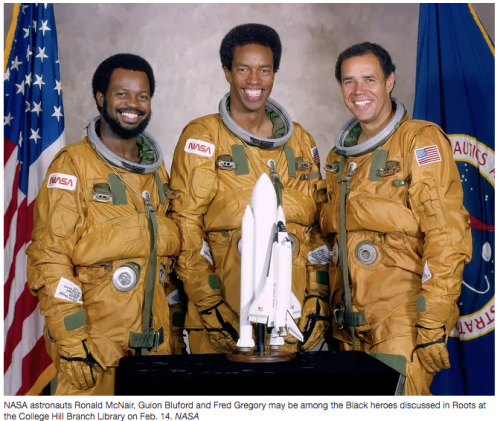 February is Black History Month, a national celebration honoring generations of African Americans who struggled against adversity to achieve full citizenship. Numerous historic, arts and civic events are planned in Greater Cincinnati and Northern Kentucky that are suitable for all ages. Many of the events are free. For a full schedule, check out the Cincinnati Enquirer's calendar at https://www.cincinnati.com/story/entertainment/2023/02/01/black-history-month-2023-events-in-cincinnati-and-northern-kentucky/69844524007/
---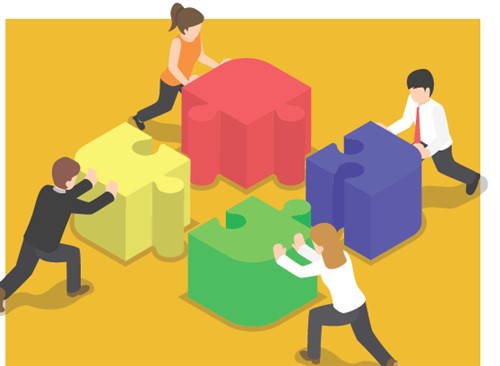 COMMUNITY
BUILDERS
CORNER
FIRST SUNDAY POTLUCKS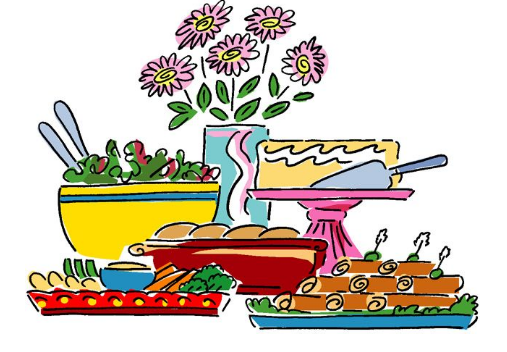 We are delighted that people once again enjoyed a delicious and well-attended potluck on February 5. Now Community Builders has a favor to ask. Our committee members would like to attend the service on potluck days, rather than stay in the kitchen doing last-minute prep on multiple dishes. Please use these guidelines:
Bring your dish ready to eat, or plan to assemble it yourself between 11:00-11:15 a.m.
Do not bring frozen food.
Cut up desserts in advance.
Please don't bring soup unless we're having a soup supper so we don't have to wash bowls.
There is no need to bring serving utensils. The church owns plenty.
You are welcome to use the warming oven. Cover your dish in foil and leave it in the oven during the service. Our volunteers will remove dishes from the oven at 11:00.
We look forward to seeing you at the March 5 potluck!
CIRCLE GATHERINGS RETURNING!
Community Builders will coordinate another round of Circle Gatherings in March and April. These informal potluck gatherings in people's homes are a great way to get to know other members and friends. We will recruit hosts during the next few weeks and announce dates in early March. If you would like to host, please email Carol Willis at clwillis50@gmail.com.
COFFEE, COOKIES, AND CRAFTS FOR OUR 55+ FRIENDS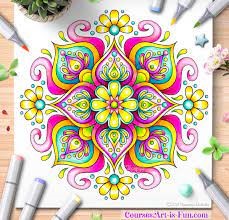 Come spend an afternoon with fellow older and wiser First Church friends. On Wed., March 29, we will meet in the Ellen Hall Room from 1:30-3:30 p.m. for conversation over coffee and cookies. Crafts are strictly optional, but we will provide adult coloring pages (the beautifully detailed ones like mandalas) and origami paper for those who would like to do an activity while chatting. Feel free to bring knitting or any other craft.
If you need a ride, please email community-builders@firstuu.com and we will do our best to find someone to bring you to church to enjoy this casual fellowship time.
UPCOMING EVENTS
• Sunday, March 5: First Sunday Potluck after church
• March-April: Circle Gatherings (to be announced)
• Wednesday, Mar. 29, 1:30-3:30 p.m. (tentative): Coffee, Cookies, and Crafts for 55+
• Sunday, April 2: First Sunday Potluck after church
Questions? email community-builders@firstuu.com
or call committee chair Patty Kelly at (309) 310-3340.
---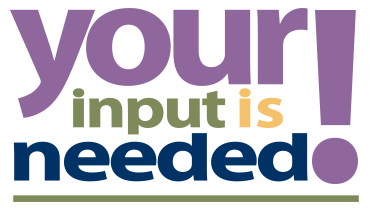 Dear First UU member,
From your Social Justice Team
Each year, the Social Justice Team asks all of you to lift up organizations for consideration to be recipients of our financial support during the 2023-24 fiscal year. First Unitarian Church offers support to organizations that live out our UU values through the monthly Share the Plate collections and our Social Justice Fund. The organizations must be designated 501-c-3 charitable entities. If you are not sure of the organization's status, please send your suggestion to us and we will confirm.

Please send your suggestion to Lisa Davis Roberts at lisadavisroberts@gmail.com. Previous recipients are eligible to be considered again this year, as are previous recommendations – we received more recommendations than we could engage this year.

For reference, here is a list of organizations we have supported (or will) in the 2022-23 fiscal year – many of these came from your suggestions – thank you.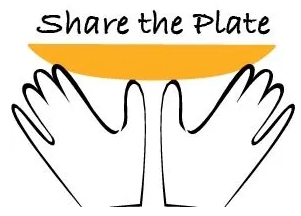 Ohio Justice and Policy Center
Interfaith Hospitality Network
Boys and Girls Club in Avondale
Lighthouse Youth and Family Services in Avondale
Intercommunity Justice and Peace Center
Cincinnati Recycling and Reuse Hub
Shiloh Pantry
South Avondale Elementary School
Found Village
Housing Opportunities Made Equal (HOME)
Refugee Connection
The Community Builders, Avondale Town Center Grocery
Faith Choice Ohio (Jubilee Fund)
Greater Cincinnati Homeless Coalition (upcoming)
Treehouse (upcoming)
---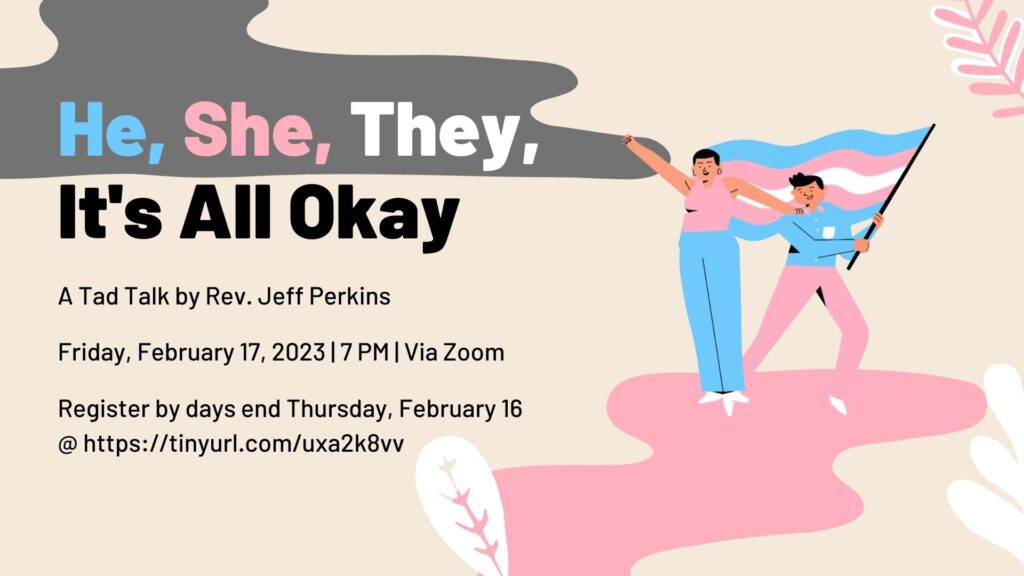 He, She, They,
It's All-Okay!
Rev. Jeff Perkins is a Baptist minister, and a Chaplain for UC Health's Transgender Health Services. Join us Friday, February 17 at 7 PM via Zoom for his Tad Talk, He, She, They, It's All Okay! Register by days end Thursday, February 16 at https://tinyurl.com/uxa2k8vv
UU & Me
This once-a-month program for adults and youth places participants into intergenerational pairings (e.g. Baby Boomer & Gen. Z; Millennials & Gen X; Gen X & Silent Generation, etc.) so that they may build connections and explore their respective spiritual journeys, together. Examples of monthly topics include "The Music that Made Us," and "Food for the Soul."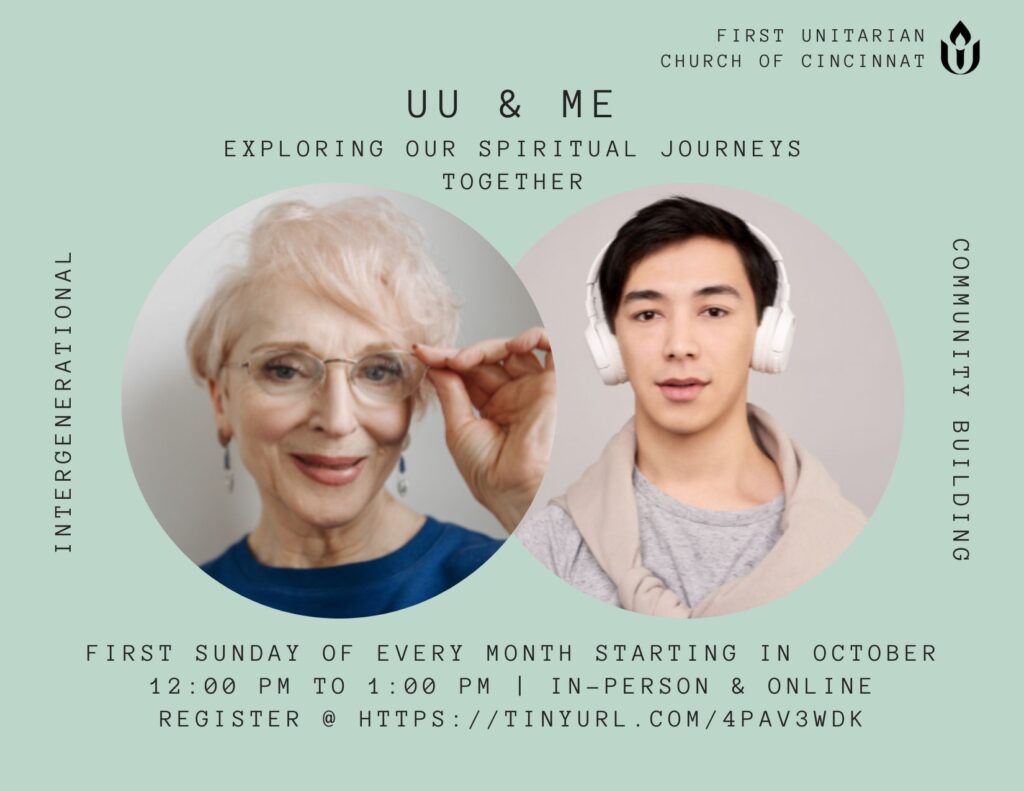 This program is offered both in-person and virtually the first Sunday of every month, from noon until 1:00 PM. Free childcare is available for all in-person participants. Sign up now, or wait until you have more time in your schedule – this program has rolling enrollment, so visitors and members are welcome to register anytime of the year! And, we hope you do. If you are new to First Church this is an easy way to get to build connection in a controlled environment!
You only need to register once to participate the rest of the year. Register at https://tinyurl.com/4pav3wdk
Book Discussion: Fiction
Friday, April 14, 2023 from 7 to 9 PM via Zoom, Adult Faith Development – in partnership with Opening Hearts – will be leading a book discussion of Take My Hand by Dolen Perkins-Valdez. Inspired by true events that rocked the nation, and exploring themes of racism, eugenics, classism, and ableism in 20th century United States, Take My Hand is a profoundly moving novel about a Black nurse in post-segregation Alabama who blows the whistle on a terrible wrong done to her patients.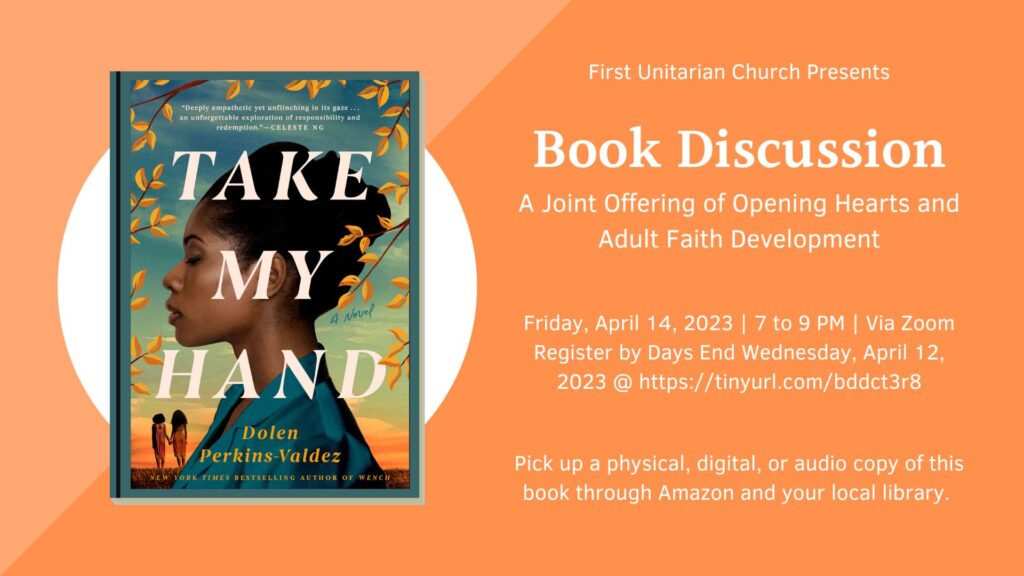 Interested in joining the discussion? Register by days end Wednesday, April 12, 2023 at https://tinyurl.com/bddct3r8. Then, pick up a physical, digital, or audio copy of this book through Amazon or your local library. Or, contact Ellen Wathen to snatch one of the 9 print copies she borrowed from the Cincinnati and Hamilton County Public Library.

Book Discussion: Non-Fiction
We know it's only February, but looking forward to May, Adult Faith Development (AFD) will be hosting a book discussion of the UUA's Common Read for 2022-2023. That book is Mistakes and Miracles: Congregations on the Road to Multiculturalism (Skinner House Books, 2019). Today, UU congregations are grappling with a charge to dismantle white supremacy in ourselves, our communities, and our world. Co-authors Nancy Palmer Jones and Karin Lin—a white minister and a layperson of color—explored five UU congregations' journeys toward Beloved Community. In Mistakes and Miracles: Congregations on the Road to Multiculturalism, they shared the joy, disappointment, and growth these congregations found.
Discussion to take place in May (Dates still TBD – Registration to Come). Order physical copies of this book through the inSpirit bookstore, purchase a digital copy through Amazon Kindle, or listen to the audio book for free via the U.U.A.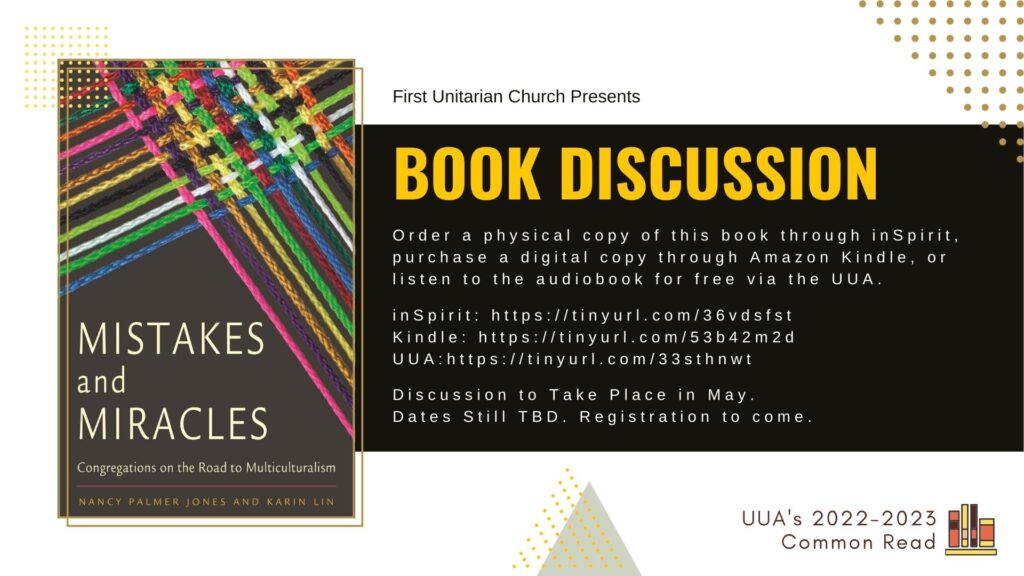 ---
UPDATE:

COMMITTEE ON SHARED MINISTRY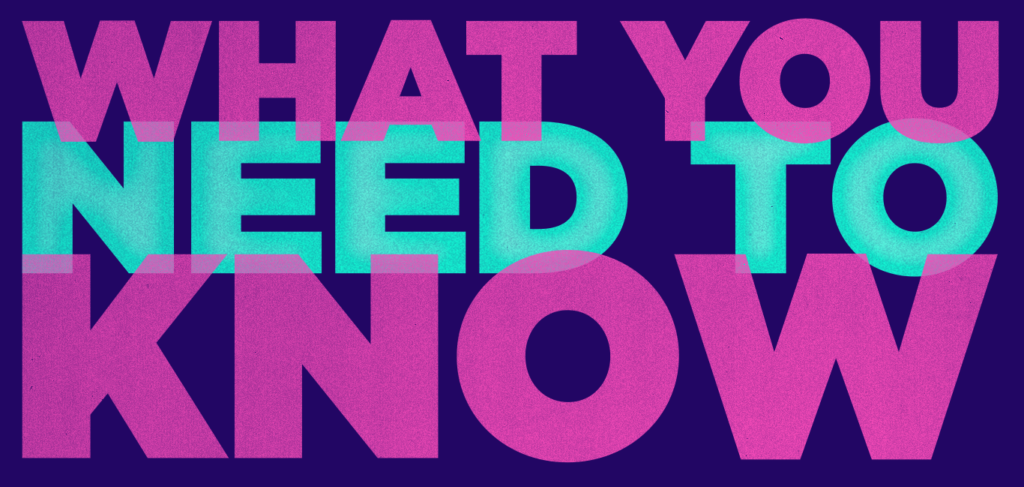 The Committee on Shared Ministry (CoSM) would like to thank everyone who has participated in submitting possible topics, joined question and answer sessions and voted during our congregational meeting!
The topic selected during the vote at the January 2023 congregational meeting was "Is volunteer work at First Church shared among the membership such that everyone helps as they are able, people's talents are being used appropriately and there is a low burn out rate?"
Now that we have the topic, here's what the Committee on Shared Ministry's work will look like the rest of this Church year:
Interview the committees or teams that have been selected, request data they have already, and explore 1) how the committee or team's efforts align with the Mission of the church, 2) what they would ideally like to do, and 3) what barriers are getting in the way.
b. Conduct surveys, focus groups, interviews with board, congregants, and any other appropriate audiences.
The CoSM will present a written report to the board by April, and will present verbally to the congregation at the May congregational meeting. The written report and presentation will include specific recommendations, and an estimated budget, if appropriate to the project. From there, the board will take the recommendation from the committee and decide how they will address this in the coming Church year.
∞∞∞∞∞∞∞∞∞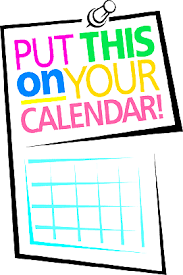 SAVE THE DATE:
MAY 11 TO 14, 2023
The annual Women's Retreat has been a stable of First UU Church for over a decade, minus the pandemic, of course. This year we are excited to announce the welcome of all sexes to the retreat with a theme of "who are we anyway?" Let's explore our individual roles in the UU church and where we are going from here with discussion among friends, relaxing on the beautiful grounds of the Transfiguration Spirituality Center in Evendale, quiet contemplation and conversations outside of the context of the church. Consider joining us for one day or the weekend. More details coming soon!
Barbara Bonnie, Beth Lutz, Mary Mark
& Sherri Ogden Wellington
Retreat coordinators
∞∞∞∞∞∞∞∞∞
RECYCLE ONGOING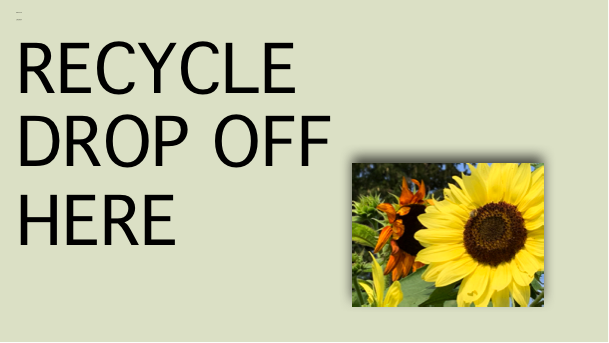 ONGOING – First Church Bins in the Ellen Hall Room:
Batteries
Coffee Bags & wire closure
Corks
Eyeglasses
Printer Ink cartridges
Oral Care-Toothbrushes, Pics & Toothpaste tubes
Pill bottles-remove all or part of label with ID info
Caps-Plastic & metal
Writing utensils-unusable

EVENTS-First Church Parking Lot on designated dates ONLY, not inside the building
January, 2024 Styrofoam (Cinti Recycle Hub)
March 12, 2023 Denim & Shoes (Cinti Recycle Hub)
Blankets/Towels/Pots/Pans (Matthew Ministries)

May 7, 2023 Gardening Pots (Cinti Recycle Hub)

July 23, 2023 Batteries & Bulbs

September 10, 2023 Latex paint (Matthew Ministries)

November 12, 2023 Electronics: Scanners, Stereos, DVD players, CD & media, Keyboards,
Printers, Fax, Cameras, Video games, floppy discs, Laptops, Mice, Speakers
(Habitat for Humanity)
∞∞∞∞∞∞∞∞∞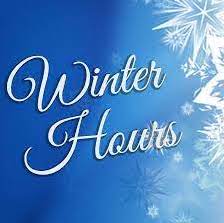 Winter Office Hours
Through March, the church office is open Tuesday, Wed. and Friday 9 to 1. If the weather and/or road conditions are questionable, please call in advance to make sure the office is open that day. Call the main line at the church 513-281-1564 and select the appropriate ext: Office administration (volunteers) or finance (Chris Smith) or DLFD (Meredith Plummer. Or you can email us at either Office@firstuu.com (volunteer office staff Tues. and Wed.) or Chris.Smith@firstuu.com.
Chris Smith
Finance Manager
∞∞∞∞∞∞∞∞∞
SHILOH FOOD PANTRY UPDATE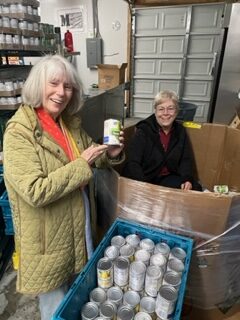 The pantry made a major change in January. Clients had been receiving a pre-packaged box of food with little variation for personal tastes or needs. In January we became a "Choice" pantry. Now clients get a grocery cart and a volunteer travels down aisles helping them choose the food they want. Clients prefer this. They get food they want and will use. This results in less waste and reduces the money we spend on unpopular food. We use the savings to expand what we offer clients. We are now able to offer cleaning, personal care, and feminine hygiene products.

In preparation for the change to a Choice pantry on January 9th a number of First Church members came to help sort products, stock shelves, and with other tasks. (See photo of Janet Schneider and Angela Pruitt sorting canned goods. Janet is in a tote bin of about 1,000 cans of vegetables expediting the sorting).

More First UU folks are now volunteering to help clients with their shopping. A sign-up Genius will be posted in early February for volunteers to register. This is a great way to meet some of our partners from the Shiloh Church and spend some time getting to know some of the people we serve.
∞∞∞∞∞∞∞∞∞
YOU ARE INVITED
LGBTQIA+ YOUTH CONCERT
FEBRUARY 26.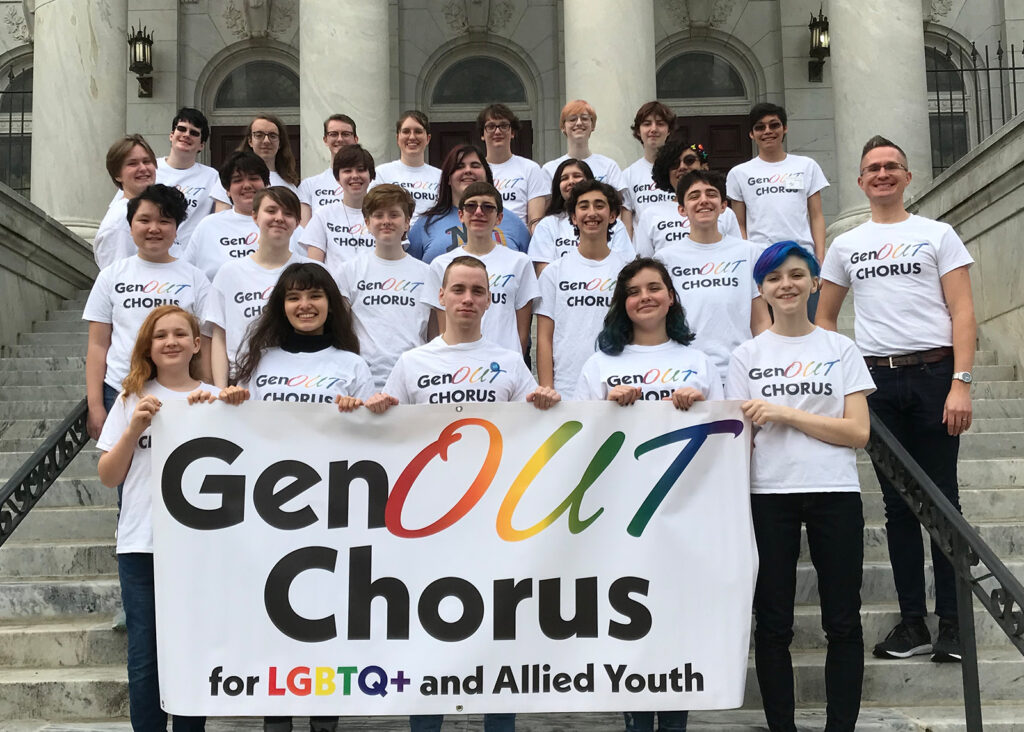 St. John's Unitarian Universalist Church in Clifton is hosting the GenOUT LGBTQ+ and allied youth choir from Washington, DC on Sunday, February 26th. Paul Heins, choir director, and St. John's invite all UUs and LGBTQIA+ advocates folks to attend their worship service at 11 am and to stay for the reception afterwards.
GenOUT is one of only 10 vocal ensembles for LGBTQ+ youth in the United States. They are an outreach ensemble of the Gay Men's Chorus of Washington DC. Nearly the entire worship service at St. John's will be led and sung by them. The church is located at 320 Resor, Cincinnati OH 45220.
–Rev. Alice Diebel of St John's and Opening Hearts at First Church
∞∞∞∞∞∞∞∞∞
A National Celebration


UU the Vote Good Trouble Congregation Celebration
UU THE VOTE ACTION
Tuesday, February 28, 2023 7:00 PM – 8:00 PM ET
It's time to celebrate! In 2022, we collectively reached over 2 million voters. Let's celebrate the work, partnerships, and moral courage of our community who got into #Good Trouble in 2022. Together Unitarian Universalists reached over 2 million voters, hundreds served as poll workers and elections, and our partnerships and values won critical ballot measures across the country. On Tuesday, February 28, let us come together to honor our collective work, share powerful stories, and call in joy as we move into the work ahead.
Come hear from partners, President Susan Frederick-Gray, and a special keynote speaker. There will be a special recognition ceremony for congregations as well as folks who served as poll workers and Election Defenders. Don't miss this inaugural celebration.
---
COMING, STARTING IN APRIL — REDS BASEBALL !!!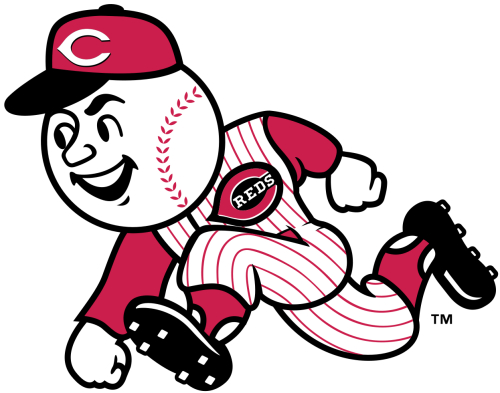 Cincinnati Reds Baseball Tickets
for First Church Baseball Fans!
Who Dey say goin' beat those Reds (OK, don't answer)
Well, after a great season for the Bengals, it is time to turn our focus to baseball! The list of Senior Games (50 and older) is shown below. The Reds use flexible pricing so the prices change over time depending on how ticket sales go. So to cover the possibility, we are asking you to pay $19 for the $18.50 tickets and $17.00 for the $16.50 tickets. Senior ticket prices are ½ of the normal price. If we have money left, we will donate it to the church. Let me (or Dan Schneider) know how many tickets you want for each game you want to attend. We plan on getting tickets along the first base/right field line in the shaded area as we have in the past. Please make your check out to: Gary Gebhart. You can also give cash or check to Dan or me at church or mail to:

Gary Gebhart
Please have your requests in by Sunday, February 26. Thanks! Go Reds!
Cincinnati Reds Senior Home Games 2023
Wednesday, April 5, 12:35 pm, Cubs $19 each
Wednesday, April 19, 12:35 pm, Rays $17 each
Wednesday, April 26, 12:35 pm, Rangers $17 each
Thursday, May 11, 12:35 pm, Mets $19 each
Thursday, May 25, 12:35 pm, Cardinals $19 each
Thursday, June 8, 12:35 pm, Dodgers $19 each
Wednesday, June 21, 12:35 pm, Rockies $19 each
Thursday, July 20, 12:35 pm, Giants $19 each
Wednesday, August 9, 12:35 pm, Marlins $19 each
Wednesday, August 16, 6:40 pm, Guardians $19 each
Tuesday, September 5, 6:40 pm, Mariners $17 each
Wednesday, September 20, 12:35 pm, Twins $17 each
---
TAKE MY HAND — IN APRIL
Take My Hand at April 14th book discussion on Zoom
Friday, April 14, 2023, from 7 to 9 PM via Zoom, Adult Faith Development in partnership with Opening Hearts will be leading a book discussion of Take My Hand by Dolen Perkins-Valdez. Inspired by true events that rocked the nation, the book explores themes of racism, eugenics, classism, and ableism in 20th century United States. Take My Hand is a profoundly moving novel about a Black nurse in post-segregation Alabama who blows the whistle on a terrible wrong done to her patients.
Interested in joining the discussion? Register by day's end Wednesday, April 12, 2023. Pick up a physical, digital, or audio copy of this book through Amazon, at your local library, or on the church bookshelves. Questions? Answers from Ellen Wathen at wathener@yahoo.com.
Note to editor: Registration link is https://firstuucinti.breezechms.com/form/6ac616346650719716599865782607273928562359
---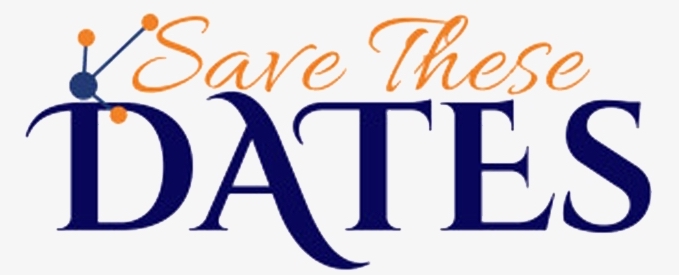 ALSO COMING IN APRIL
Joint UUSC Weekend
April 29 and 30
Greater Cincinnati
April 29, 2023 – St. John's UU Church
6:00 pm – 320 Resor Avenue, Cincinnati OH 45220
Join us for a potluck dinner with Rev. Mary Katherine Morn, President of UUSC (Unitarian Universalist Service Committee), sponsored by the Unitarian Universalist Council of Greater Cincinnati, which represents six local UU congregations (First, Gathering at Northern Hills, Harmony, Heritage, Hopedale, St. John's). This is an opportunity to learn more about the work UUSC is doing with grassroots partners around the world to resist oppressive systems and advance human rights. Come enjoy camaraderie and inspiration with your fellow UU justice-lovers!
April 30, 2023 – First Unitarian Church of Cincinnati
10:30 am – 536 Linton Street, Cincinnati OH 45219
Connections that Heal: Partnering for a Just Transition
How do we stop systems based in relentless extraction and move towards ways of being that heal and restore? Communities in the front lines of the climate crisis are leading the way towards the transformations necessary for our collective survival and flourishing. Join us for a joint service sponsored by the Unitarian Universalist Council of Greater Cincinnati as Rev. Mary Katherine Morn, president of UUSC, shares stories of the remarkable work UUSC partners are engaging in around the world with our support.
Mary Katherine bio:
After 30 years in faith-based leadership, the Rev. Mary Katherine Morn joined UUSC as President and Lead Executive Officer in 2018. She has helped to grow a number of progressive congregations serving their members and the larger community.
Mary Katherine contributed to efforts for economic, racial, and social justice in Macon, Georgia at the Economic Opportunity Council/Headstart with the NAACP. She also worked deeply in the reproductive justice movement. In Nashville, Tennessee, she collaborated with the Interfaith Alliance and Industrial Areas Foundation. In Fairfax, Virginia, she worked with interfaith ministries addressing hunger and homelessness, collaborated with LGBTQI+ advocacy organizations, and served on the county's homelessness task force.
---
Council On International Educational Exchange

DO YOU WANT TO BE
A HOST FAMILY
I am reaching out to our local Churches about 3 high school exchange students coming to the Cincinnati area. One of my favorite things about American culture is that we get to share our faith freely. Perhaps you or someone you know would be interested in the opportunity to be a volunteer host family for their high school year. Our students will attend the public high school closest to their host family and can take school transportation or carpool. They speak good English and have their own medical insurance as well as their own spending money to cover their personal expenses. A volunteer host family simply puts another plate on the table and welcomes the student as one of their own! Host families can be retired, single parents, couples with or without children of any age. Here are notes from our 3 students:
Francesca from Italy-Girl
Enjoys: Ceramics, Reading, Photography, Music
"I'm sweet, polite, funny, and loyal. My hobbies are reading, taking pictures, and watching TV series. I am a Potterhead and a Marvel fan. I listen to pop music almost every day and my favorite singers are Harry Styles, Bruno Mars and Olivia Rodrigo. I love their songs and I always listen to them when I'm sad. I also love children, in fact being a pediatrician inspires me. I have a sister and a dog, I love pets, especially dogs and cats."

Vinicius from Brazil-Boy
Enjoys: Swimming, Body Building, Reading, Soccer, Would like to see snow
"Everyone says that I am a fun person, funny and that I deal very well with everyone. I'm sociable and mostly proactive. I have many friends. I really enjoy playing football with my friends. I really enjoy watching funny videos. I would like to see snow. It's a dream I have. I don't like to hear negative things. I like to think that it will always work. I don't like to see people sad. I don't like injustice and lies. I really like to watch series and go out to eat. My favorite leisure time activity is playing sports. I am a swimming athlete at my school and train three times a week. I also love bodybuilding. I'm training 3 times a week. I also like to read, but only books in the areas I like. I get good grades in math and love studying the investment discipline. I intend to pursue a career in this field."

Angela from Spain-Girl
Enjoys: Crafts, Photography, travel
"Hello, I'm Angela, I consider myself a very cheerful girl who likes to spend time with family and friends. In my free time, I read mystery books, watch series and I bike ride with my friends. I really like animals but due to the little space in our apartment, we can't afford to have them. Something else that I really like to do, is going to my mom's town, there people are closer and we all know each other, I love town parties, everybody is just dancing, singing and laughing, we have a lot of fun."

Thank you so much for your consideration! Please feel free to contact me with any questions you may have!
I look forward to hearing from you!
HAYLEE JAMES // CIEE
Regional Placement Manager
7195 Fieldstone Ct. Cincinnati Oh 45241
email hjames@ciee.org
tel +1.513.460.5718
web ciee.org/
pronouns she/her/hers
---

First Unitarian Church Communications wants to hear from you
in order to understand how you perceive the world.
Comment on what you have read here
tell us what you would like to read here,
tell us what hopes and concerns you have
for how we want to be together.
newsletter@firstuu.com
---