Current Newsletter

Sunday, September 10, 2023
---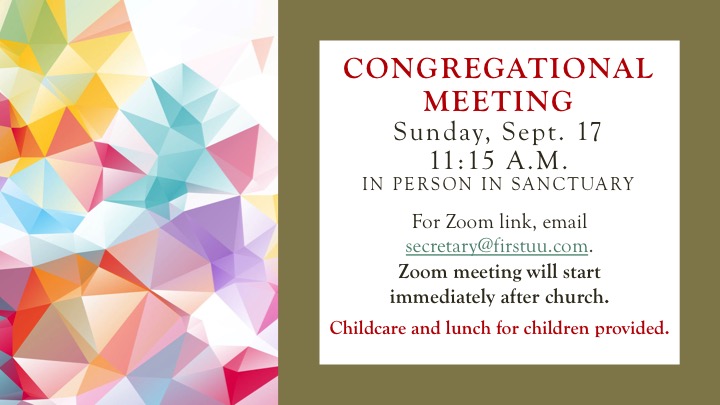 ---

ALL ARE WELCOME
TO JOIN OUR SERVICES!
We continue to gather every Sunday both in person and online at 10:00 a.m.
Our building is opens at 9:30 for worship and coffee hour.
Masks are not required, but encouraged for those with health concerns.
Vaccinations are very highly recommended.
For the health and safety of our community, please respect our COVID protocols.
If you choose not to attend in person, you may watch our services at anytime on YouTube.
https://www.youtube.com/c/FirstUnitarianChurchofCincinnati/videos.
For more information on how to join our community events
Email member-care@firstuu.com.
THIS SUNDAY
RELIGION WITHOUT A NET
Part 1 of a 2 part series presented by Dr. Alexander Riegel.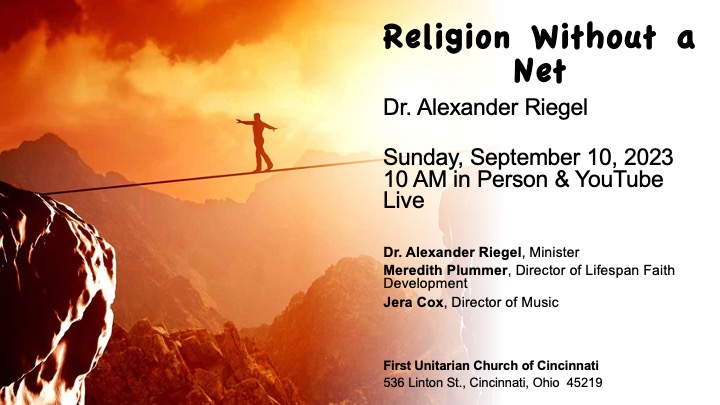 Please join us this Sunday, September 10, 2023, as Dr. Riegel explores UU Theology.
Every other religious tradition provides the safety of scripture, ecclesiastical teachings, and spiritual practices as support for their followers. Unitarian Universalism offers none of these. To be a UU, then, is to practice religion without a net. How does one make sense of a religion such as this?!

Can't come in person? Watch this Sunday's service at 10:00 a.m.
with this YouTube link:

https://www.youtube.com/watch?v=Np8Re7lqddw

You can access our channel for past services here:

https://www.youtube.com/c/FirstUnitarianChurchofCincinnati/featured

Learn more about First Unitarian Church on our website, https://firstuu.com/
COMING SOON
Sunday, September 17 – SINNERS IN THE HANDS OF A LOVING GOD
Part 2 of a 2 part series presented by Rev. Alex Riegel.
The famous Great Awakening preacher, Johnathan Edwards, preached an historic sermon entitled, "Sinners in the Hands of an Angry God," which expressed the fear of God that was part and parcel to the Christian faith at the time (and remains so for many Christians today). Today's sermon contemplates what the message might be if we take seriously the notion that we are actually held in the hands of an unconditionally loving God, per our Universalist theology?
---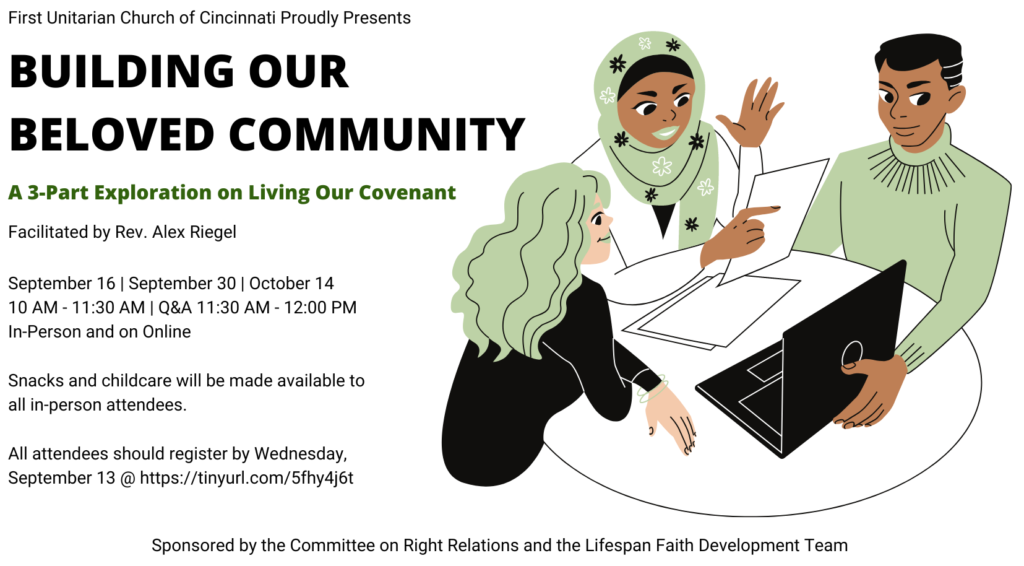 On Saturdays, Sept. 16, 30, and Oct. 14, from 10 – 11:30am (with an optional Q&A from 11:30am – noon), Dr. Riegel will be conducting a set of workshops on "Building Our Beloved Community," on behalf of the Committee on Right Relations and Lifespan Faith Development. This is an opportunity to develop the understanding and skill sets necessary for us to walk the talk of beloved community. As Dr. Riegel recently said in a sermon, acquiring ideas is easy. Bringing one's behavior into alignment with those ideas is a more difficult task. So, we continually need to think through what it means to be in beloved community and learn the skill sets that help us realize beloved community.
In this set of workshops, Dr. Riegel will be drawing on two powerful and effective psychological tools: the Enneagram and Action Science. He will use the Enneagram to help us better understand ourselves, i.e., what are our mental and emotional habits, and how those habits affect the way we perceive and participate in the world. He will use Action Science (in conjunction with the Enneagram) to redefine the principles and goals by which we tend to operate, and help us learn how to operate according to these redefined principles and goals.
Sept. 16th : Habits of Mind and Heart: What the Enneagram Can Teach Us;
Sept. 23rd : Climbing the Ladder of Inference: Action Science "Sins";
Oct. 14th : Mutual Support, Mutual Learning, and Mutual Goals: Building Our Beloved Community
We will be recording this set of workshops via Zoom for later viewing. However, it is best to attend in person, if possible. Snacks and childcare will be provided to all in- person attendees.
Registration is required. To register, follow this link: https://tinyurl.com/5fhy4j6t! Registration closes at day's end Wednesday, September 13, 2023 so act fast.
---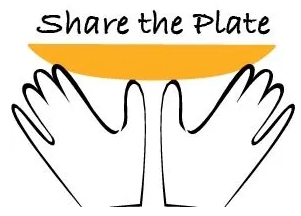 Contributions to the August Share the Plate will benefit Tikkun Farm, an urban farm in Mt. Healthy with a mission to restore people, community and creation. The name comes from a Hebrew phrase, tikkun olam, meaning "repair the world." They answer this call to social action and justice through opportunities for meaningful work, education, spiritual practices and trauma-informed care. Tikkun Farm's wholistic approach invites individuals of all ages and backgrounds to heal, connect with others, develop leadership skills and address the climate crisis.

As founder Mary Laymon says, "Our diverse programming reflects creation's complexity and interconnectedness. It mimics the complex web of life in natural ecosystems, where plants and animals benefit each other. The farm's staff, supported by 125 weekly volunteers, annually serves 7,500+ unique individuals. We care for farm animal rescues and use sustainable farming to repair topsoil, grow produce and address climate change. We provide farmland for Bhutanese refugees and hands-on preK-12 environmental education. We distribute fresh surplus food and deliver Crockpot meal kits. We teach job skills to marginalized youth. We host a maker space and community events, lead retreats/workshops and offer yoga, writing and cooking classes. Most programs advance all 3 aspects of our mission—while learning to grow food, local youth work toward a more just future as they are healed, along with the earth."

Please make checks payable to First Unitarian Church of Cincinnati with Tikkun Farm in the memo line. You may also make your donation online through Breeze at any time.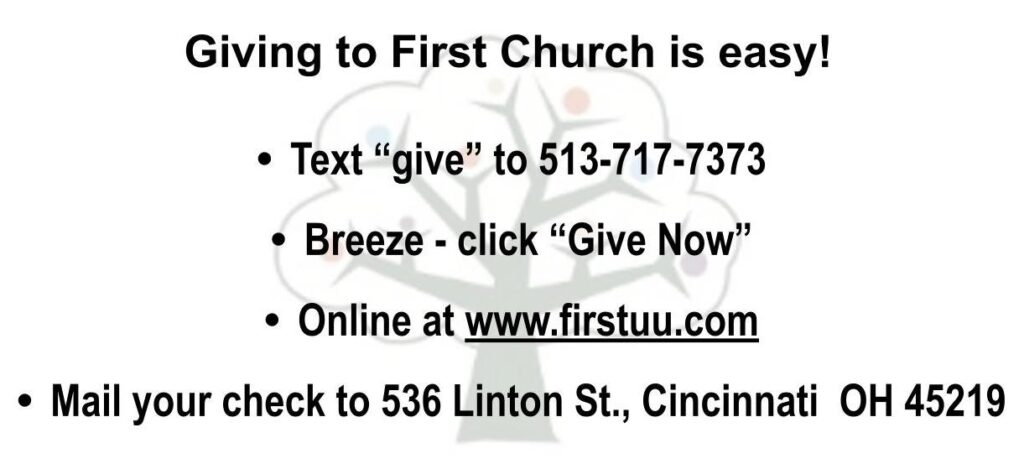 ---

HELLO BELOVED,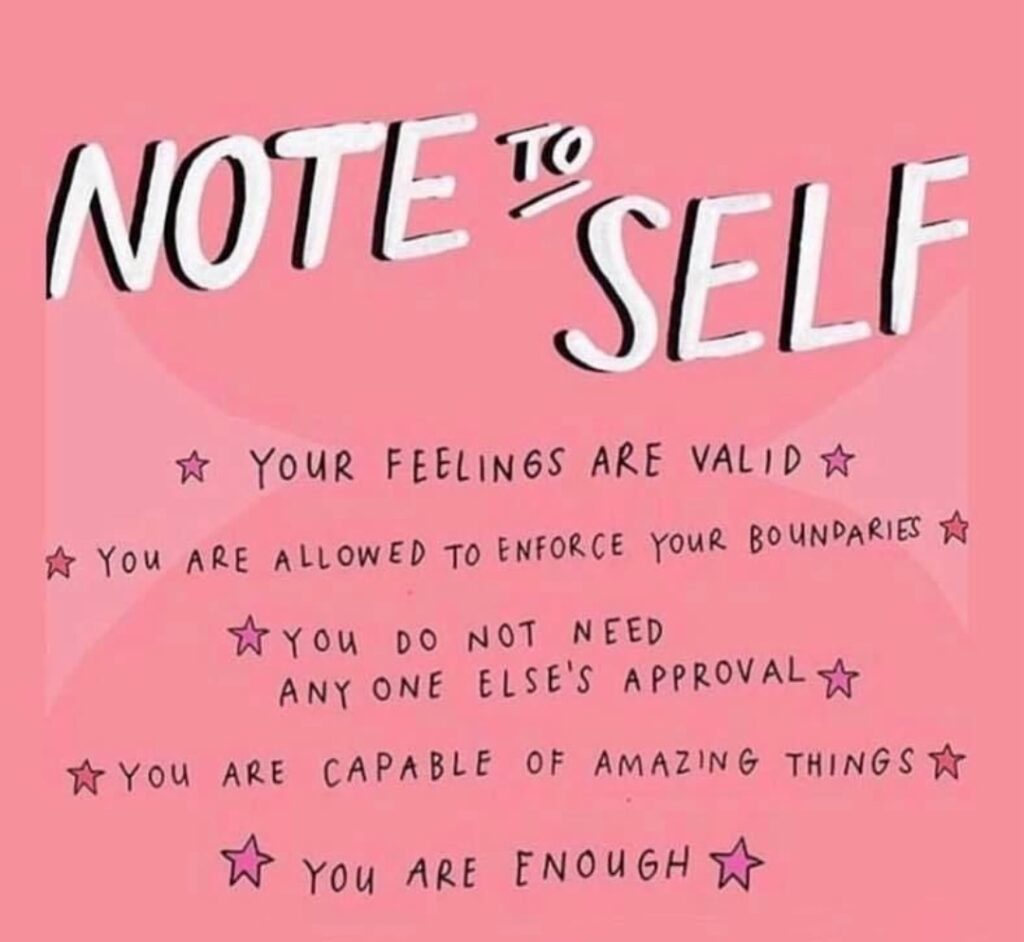 I'm trying something new this year. Instead of simply providing a list of upcoming events in this section of the newsletter, I want to add a little note of love each month. And, this month, I want to tell you about my friend and colleague, J.L. Shattuck. Every fall, J.L.'s family sits down and drafts a family covenant – a list of promises of how they will live out their UU values at home and in the world. It includes phrasing such as "remember we're on the same team," and "receive feedback with grace." Sounds nice, doesn't it? Every year, when I see J.L's post pop-up on my Facebook feed, I think 'This is the year! We're going to create a family covenant too.' But, confession, we never do. And, you know what? I've learned to be okay with that. My family doesn't have a family Covenant, but we do have chalices strewn throughout the house, we own up to our failings, and we center love in all things. Perhaps you are like me, or perhaps not. Perhaps there are no covenants or chalices in your home, but every night at dinner your family shares an interfaith prayer. Perhaps your family makes it a point to attend every march or protest possible. Or, perhaps, your family is just holding tight to love as it tries to survive the struggles of day-to-day life. All are valid expressions of this faith where all are valid. Remember, you are valid, and you are loved
Until next time,
– Meredith
VOLUNTEER UPDATE!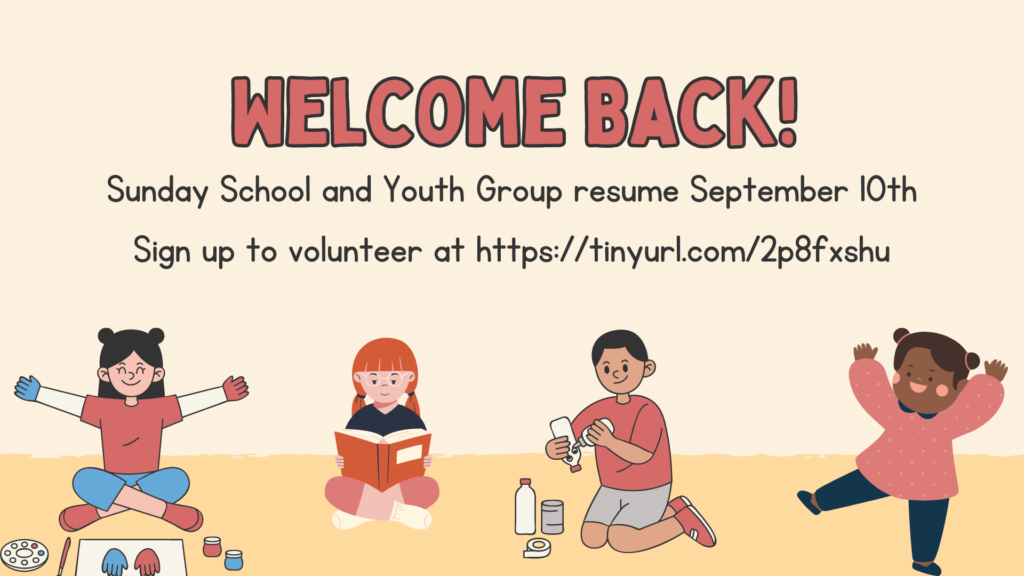 Wow! Thank you to all the volunteers who have signed up to assist in our Sunday School and Youth Group classrooms this fall! We started the year with over 50 volunteer spots and are left with only 8 spots now through December! Amazing! A buzz is certainly building around Family Faith Development. If you want to see what all the fuss is about, you can snag one of these last 8 spots by going to https://tinyurl.com/2p8fxshu. But, you better act fast!
RECIPE FOR A LONG AND HAPPY LIFE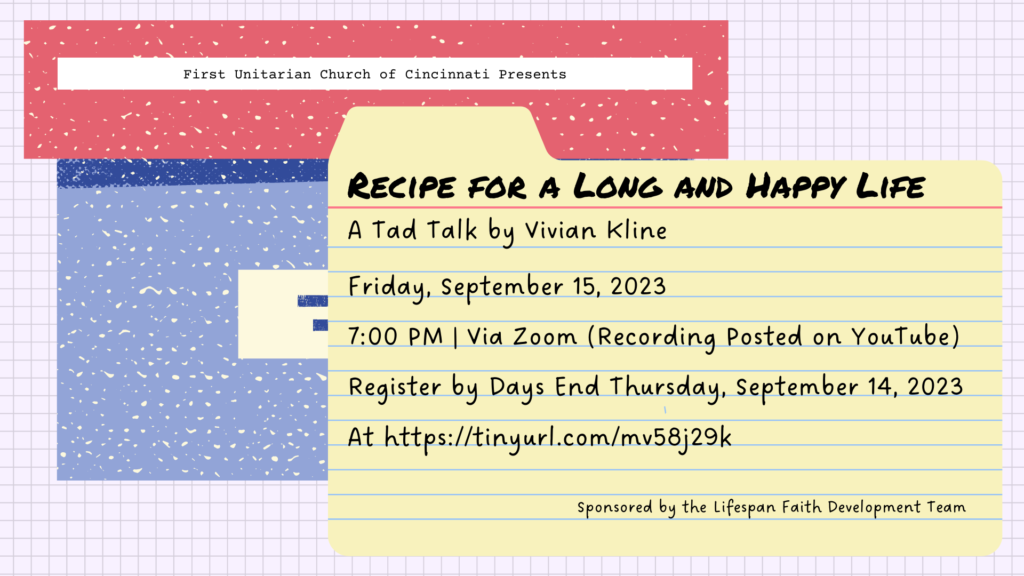 I once heard it said that people are nothing but a collection of stories. If that's true, Vivian Kline, at 98 years old, has more stories than most. Join us, Friday, September 15, 2023 at 7 PM via Zoom, as Vivian shares just a few of her stories in her Tad Talk "Recipe for a Long and Happy Life." Just register by days end, Thursday, September 14 at https://tinyurl.com/mv58j29k.
Please note, this talk will be recorded and posted to First Unitarian Church's YouTube channel.

SHARING CIRCLE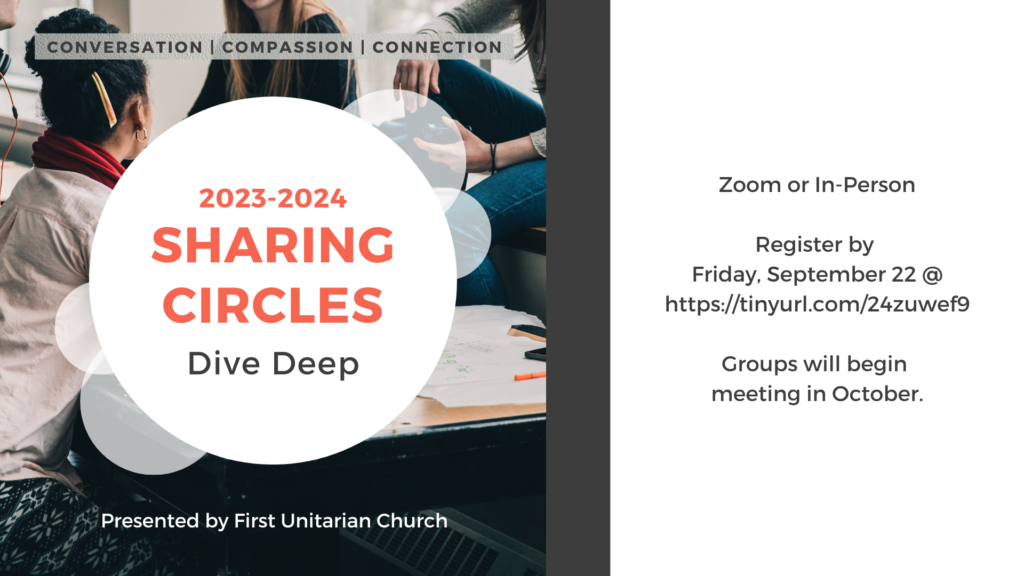 What topics have you been dying to talk about? Join a Sharing Circle and tell us! Sharing Circles, otherwise known as small groups, gives you the opportunity to dive deep. By engaging with insightful media and probing questions, you and your fellow group members (about 6 – 10 people) will explore one topic a month, building trust and community along the way. And, just like last year, the topics are chosen by you! Connect, converse, and share compassion through Sharing Circles.
Sharing Circles will kick off in October (group assignments will be sent out within the first week). Please register by days end Friday, September 22, 2023 at https://tinyurl.com/24zuwef9

4th – 6th Grade OWL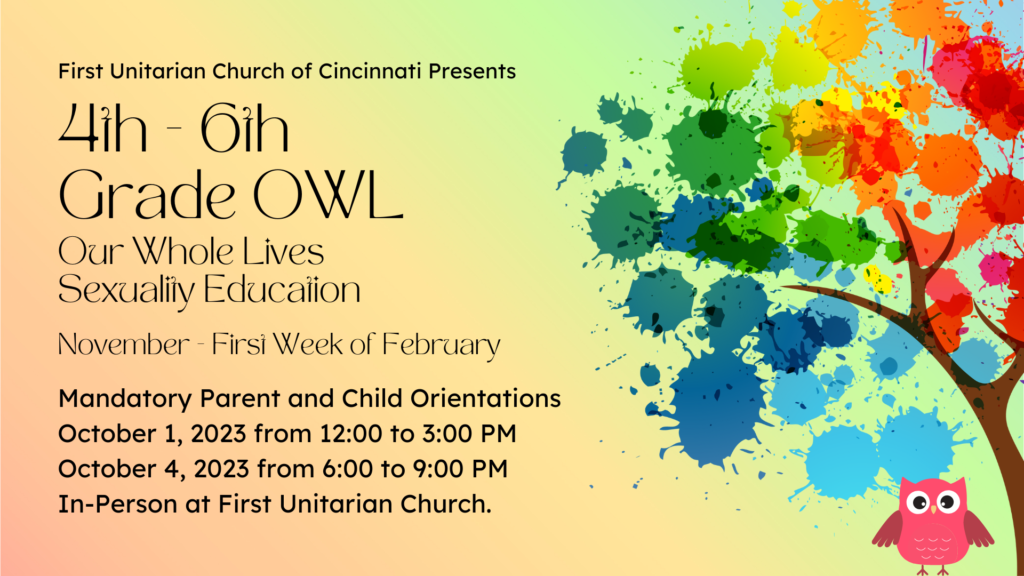 Lifespan Faith Development is pleased to announce that we will be offering Our Whole Lives (OWL) sexuality education for our 4th, 5th and 6th grade students this year! Sexuality is complex because it encompasses not only anatomy and development, but also issues of communication, emotions, relationships, values, self-image, and social justice. Although we acknowledge that parents are the primary educators for their children, we feel it is important that children have the opportunity to discuss these issues with other knowledgeable adults and their peers in a structured and safe environment.
If you are interested in having your child(ren) participate in this year's program, you and your child(ren) must attend one of the mandatory, in-person, Parent / Child Orientations listed below.
Sunday, October 1, 2023 from 12:00 to 3:00 PM (Church potluck preceeding)
Wednesday, October 4, 2023 from 6:00 to 9:00 PM (Pizza will be served to all attendees)
---

Hello everyone. The Community Builders Team hopes you had fun getting together with your church friends during the Summer Area Gatherings and the Ice Cream Social.
We have a lot more events coming up this fall:
Coffee Klatch – September 21, 9am-10:30am: a casual gathering of our 55+ members. Let's get together at church for some friendly conversation and coffee. Please contact Patty Kelly for more information
Fall Bike Ride – September 23: for anyone who enjoys riding their bike! More information will be sent out closer to the event date. We will probably do a morning bike ride followed by lunch.
Monthly Potluck – October 1, 11:15 a.m.: Please join us for our monthly potluck. To make the cleanup easier, please don't bring anything that needs to be eaten out of a bowl (soup, chili, etc.).
Game & Game party – November 12, noon-5pm: a game-oriented gathering for our members who consider themselves "middle-aged". We'll get together at Doug and Patricia Rohrer's house to watch a Bengals game and play board games.
Coming back this fall: our Circle Gatherings. Get together with First Church members and friends in smaller groups. This is a great way to get to know each other better. Please contact Carol Willis if you want to host an event. When all the locations and dates have been planned, you can sign up to attend!
Do you like all the events Community Builders organizes? We can use your help!!! Please send an email to community-builders@firstuu.com if you want to be on the team or if you're interested in organizing one-off events. This is an easy way to be connected without a time-consuming commitment.

How do we pay for the events? Community Builders has a small budget to buy items (like the hot dogs at the Independence Day lunch). Luckily we also have many wonderful members who step up to bring items to our gatherings. We like to keep all events free so anyone can join. If you'd like to help with a monetary donation, you can do so via Breeze. Under "online giving" you can select "Give to Community Builders". Any donation is welcome!
Patricia Rohrer
Chair, Community Builders Team
---
~~~~~~~~~~~~~~~~

FIRST CHURCH MEMBER PHOTO DIRECTORY IS OUT!

The new photo directory has been created and a pdf of it has been emailed to all members from Breeze. You can print it out from home or pick up a copy at church if you need one. Many thanks to all of you who contributed updated photos and made sure your contact information was correct. If you discover there are mistakes, let us know and we will fix it for the next edition. And if you are unable to get to church and would like a copy mailed to your home, please let us know that too.
Linda Miltner and Barb Rider
Membership Co-chairs
~~~~~~~~~~~~~~~~
HOSTS NEEDED FOR FALL CIRCLE GATHERINGS
Community Builders is planning another round of Circle Gatherings in October. These informal potluck-style gatherings are a great way to get to know First Church members and friends outside of church.

Your gathering can be a dinner, brunch, picnic, appetizer party–whatever you like. Guests will be invited through Signup Genius and will bring a dish based on your menu guidance. Nothing has to be fancy; this is all about fellowship. If you are willing to host, please contact Carol Willis by September 9 with the information listed below.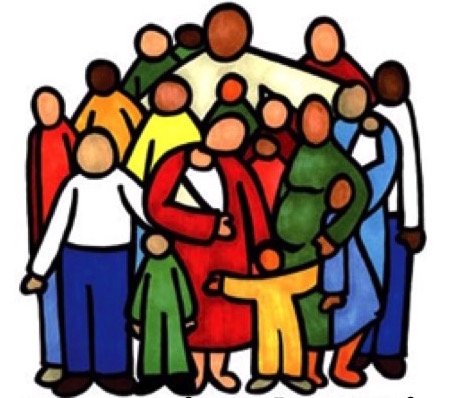 Dates and times that you could host between October 6 and November 5
The area of town where you live (e.g., Pleasant Ridge, Downtown, Fort Thomas)
How many guests you can accommodate
Whether you are open to adults only or to families
Whether you want to focus your guest list on a particular group (e.g., families with young children or teenagers)
Whether you plan your gathering to be alcohol-free
Whether you'd like the food at your event to be all vegetarian or vegan. (Gatherings usually have a mixture of types of foods and most hosts try to accommodate guests' dietary needs.)
Whether you have pets or other potentially limiting considerations (e.g., you live in a third-floor walkup apartment) that potential guests should know.
The Signup Genius for guests to sign up for a gathering will be sent out in mid September.
~~~~~~~~~~~~~~~~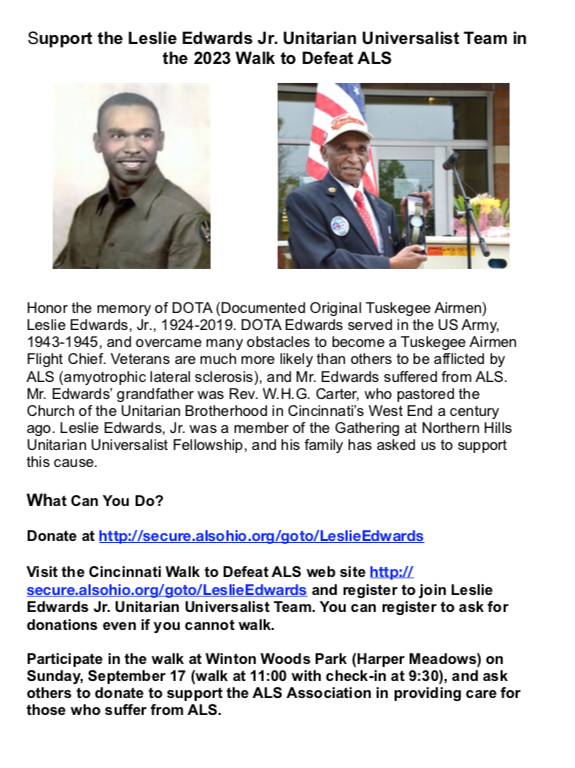 ~~~~~~~~~~~~~~~~
Today!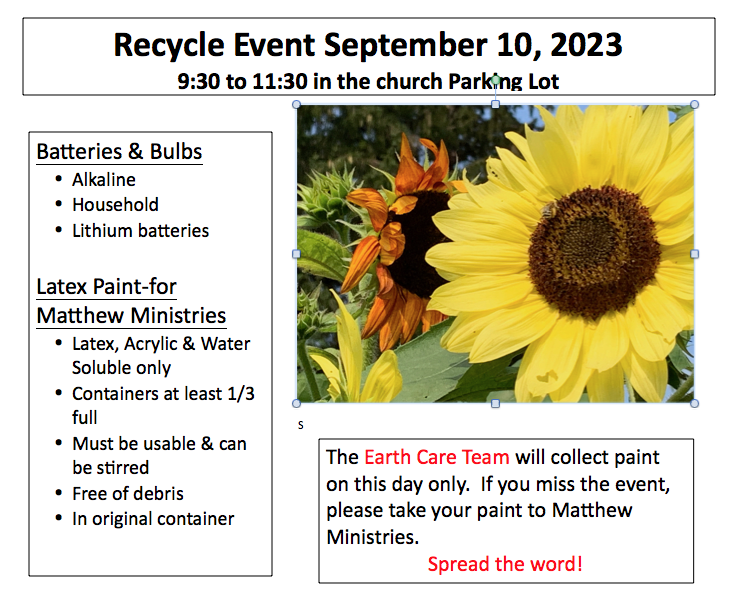 Earth Care Team meeting
September 17
Ellen Hall Room
9am
~~~~~~~~~~~~~~~~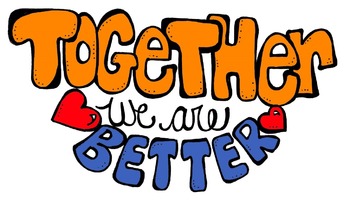 CIRCLE OF FRIENDS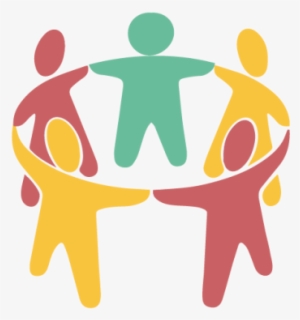 Ramona Beck: I am a native of Jacksonville, Florida. As you may be aware, there was a recent shooting of people at Dollar General. A gunman killed three people. One of the victims of the self-hate crime is a graduate of the high school I graduated from in 1976. Currently, my mother, siblings, and extended family live in Jacksonville. I love Duval County. As Nina Simone might sing in this political climate, Florida's governor has got me so upset. I am angry that too many people with the power to be heard choose to make others the target of self-hatred.
I am requesting prayers to the God of our understanding for comfort and self-love in the hope that as we love ourselves better, we will love others better. Ramona Beck, 6464 Teakwood Ct Cincinnati, OH 45224
---
SOUTH AVONDALE TUTORING NEWS
Thank you so much to everyone who has donated money or school supplies for our South Avondale Elementary partners. It was wonderful to be able to drop off a car full of items last week!
I also want to thank everyone who has signed up to be a tutor or a substitute tutor for the coming year. We have a few more spots available for the Tuesday group. Please let me know if you are interested in finding out more about the program.
We will be holding training sessions for the tutors, substitutes or anyone who is interested in the program and would like to find out more about it. You can join us at South Avondale Elementary on Tuesday, September 19th or Thursday, September 21st. Both sessions will be from 1pm-2pm. Please contact Patricia Rohrer to let her know you're planning on coming so we have enough materials prepared.
---

September-October Days of Observance
Celebrate Hispanics/Latinx, LGBTQIA+, Indigenous Peoples
Hispanic/Latinx Heritage Month on Sept. 15-Oct 15 celebrates countless contributions of more than 60 million Hispanic Americans, Latinos, Latinas, and Latinx-identifying people to U.S. culture and society. Hispanic Americans are the largest minority group in the United States today.
LGBT+ History Month has been observed throughout October since 1994. In 2009 it became an official USA observance by presidential decree.
Indigenous People's Day on Oct. 9 honors Native American peoples and commemorates their histories and cultures. The observance is a federal holiday and replaces Columbus Day because Christopher Columbus' violence perpetrated against Native Americans.
National Coming Out Day on Oct. 11 celebrates lesbian, gay, bisexual, transgender and queer people's coming-out experiences and journeys. Coming out isn't easy. Celebrate the courage of your family and friends who have done so.
Intersex Awareness Day on Oct. 26 commemorates the first intersex rights protest that took place in Boston, Massachusetts. Intersex people are individuals born with any of several sex characteristics including chromosome patterns, gonads or genitals that do not fit the typical binary notions of male or female bodies.
National Native American Heritage Month is celebrated throughout November. The month-long national celebration honors the culture and heritage of the remarkable Americans who have deeply enriched the quality and character of our nation yet suffered great pain caused by our nation's oppressive culture of dominance. First Unitarian Church of Cincinnati is located on the ancestral lands of the Adena, Hopewell, Myaamiya, and Shawnee peoples.
---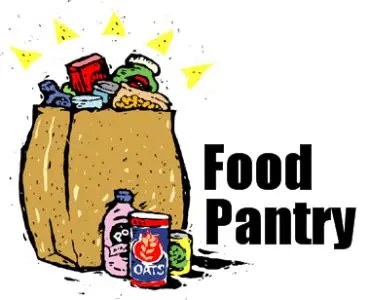 HERE'S THE NEWS
Volunteers
First UU Volunteers continue essential to the Pantry's operation. Currently 7 or 8 regularly volunteer. This is almost half the staffing needed. Most find it enlightening, enjoyable and a chance to spend personal time with clients. Call me to arrange to volunteer even when the Sign-Up Genius list is filled. I'll can make arrangements.
A possible change to our Thanksgiving distribution. Usually, we distributed 350 to 500 frozen turkeys. This requires a lot of volunteer physical effort. It's also too big for many clients (family size, cooking habits, facilities etc.). A likely alternative is a box of Thanksgiving items, and a gift card. People can then get needed items for their holiday meal.
Finances
Currently, pantry expenses are increasing. Covid supplementary food payments have expired and increasing numbers of people come for food. Also, inflation has driven Free Store Bank's food purchase prices higher. The pantry then needs to pay more, reducing how much and what we can buy.
Separately our refrigerated truck, essential for receiving large quantities of frozen meats and other frozen products, has had substantial maintenance expenses.
We're hoping the Pantry Special Plate for October will be especially generous this year so we can continue to provide clients a good selection of nutritious food.
Operations
We've decided to change our operating schedule. We'll be open the 2nd and 4th weeks of the month starting in January. This recognizes many clients have spent their SNAP "(Food Stamp") benefits by the 4th week. It's then expenses like rent and utilities also come due. Getting food then is much appreciated.
Tom Rohrer
---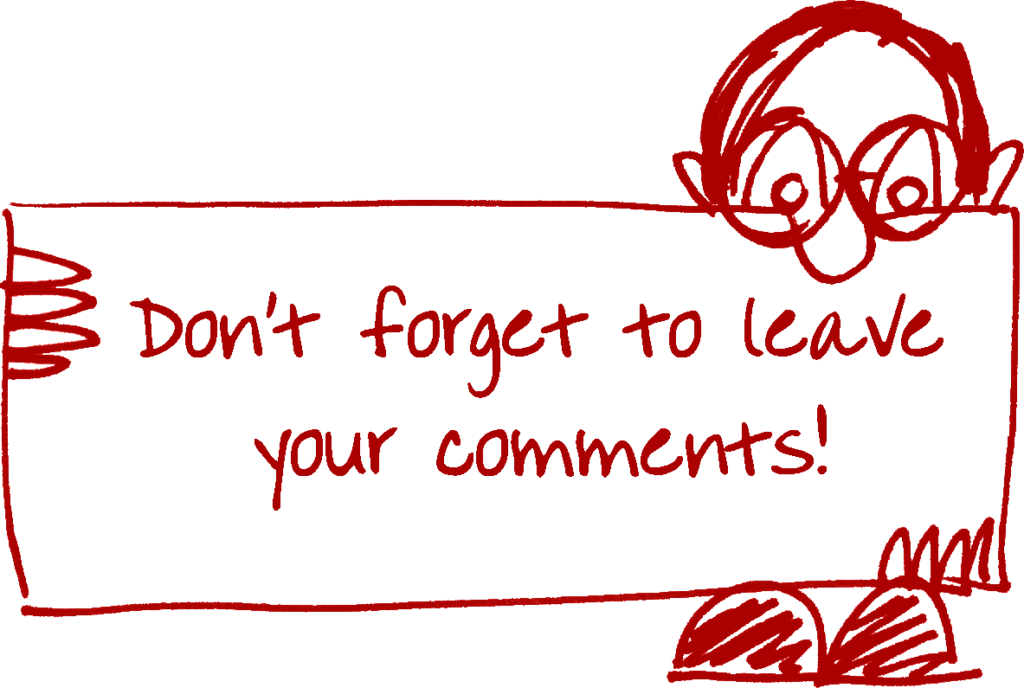 First Unitarian Church Communications wants to hear from you
in order to understand how you perceive the world.
Comment on what you have read here,
tell us what you would like to read here,
tell us what hopes and concerns you have for
how we want to be together.
newsletter@firstuu.com
---