Affinity Groups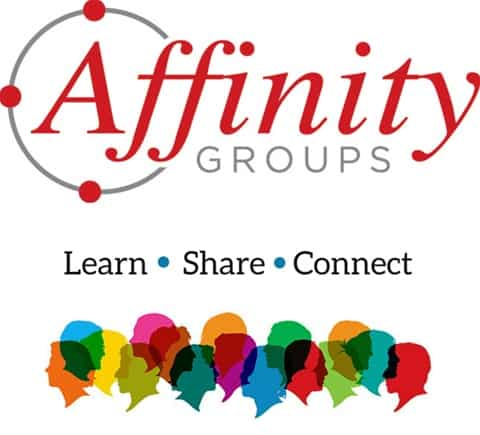 One of the fundamental ties that binds the 1st Church members and its recurring visitors together in community is their broad participation in a wide variety of AFFINITY GROUPS. Their shared devotion to the Seven Principles and the church Covenant plays itself out in extensive engagement in informal associations dedicated to social justice, public service, and community out reach. The opportunity to commune with other similarly minded and similarly committed friends on spiritually or socially productive activities produces shared good feelings of purpose and satisfaction.
Some of these groups are made up solely of 1st Church members. Some that share in activities of the church are structured outside the aegis of the church. Some are denominational or local ecumenical associations. Some are non-profits that share 1st Church's mission for justice and equity. Some are loosely structured gatherings keen on community building in the church community or in the community at large. All are welcome in the support structured of The First Unitarian Church of Cincinnati in some way or other.
The Shiloh Food Pantry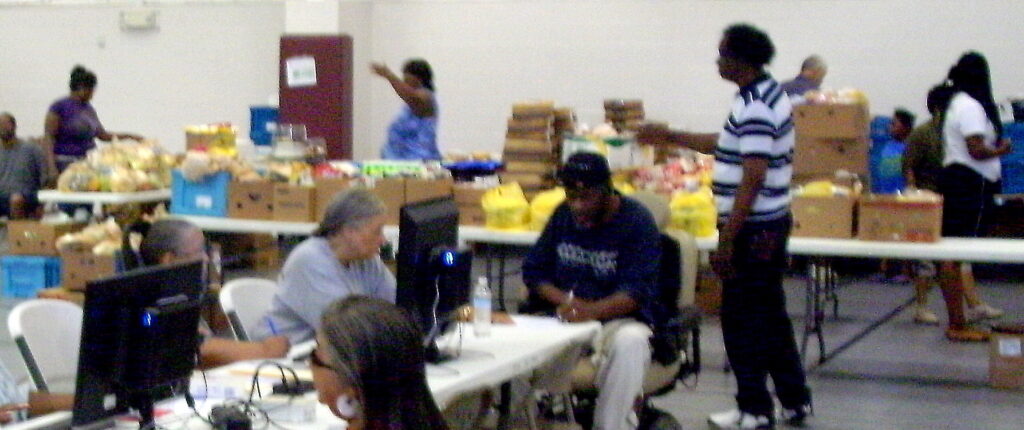 The Avondale Shiloh Food Pantry is a shared effort with Cincinnati Shiloh Seventh-day Adventist Church and is a major Social Justice focus area for 1st Church. While the Pantry is in Avondale, it welcomes and serves anyone appearing at its doorstep. The pantry is one of the largest pantries in Hamilton County and an important source of food for many impoverished families. Our volunteers are an important support to the pantry's week-by-week work. Our Share The Plate collection provides a large part of the pantry's annual budget.
1st Church House Band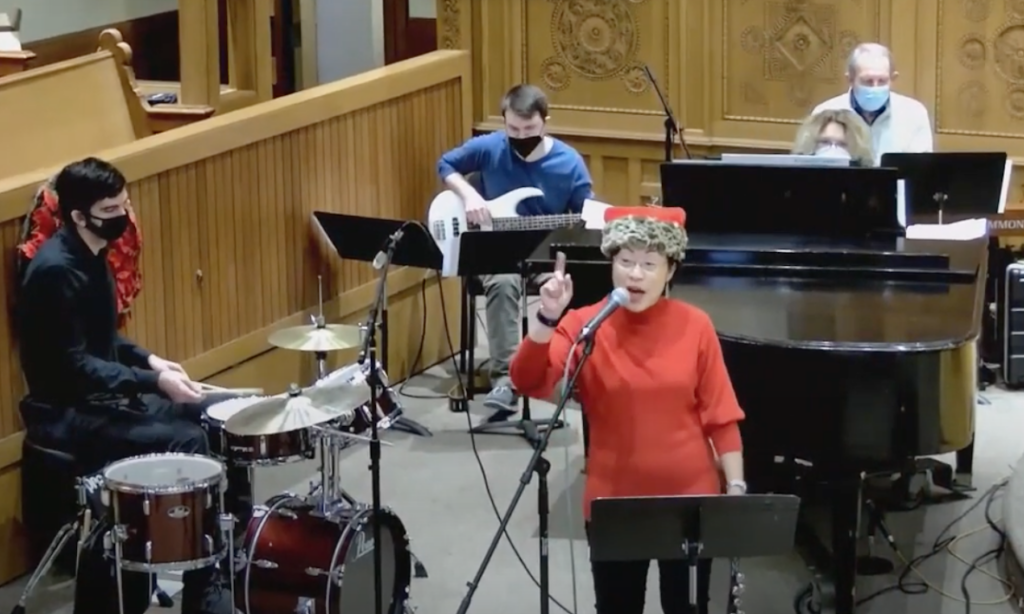 The House Band provides curated live music of all genres for worship services in conjunction with the Worship Committee, the Minister, and the Music Director. Anyone with an interest in music, vocals, or particular instruments is welcome to join with the House Band.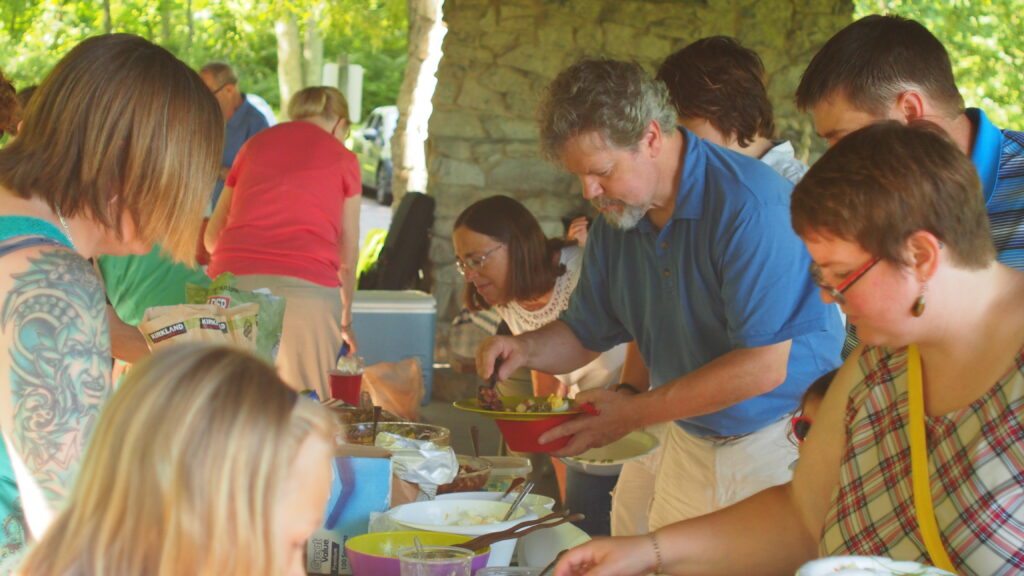 1st Church Community Builders
Plans church-wide social activities for members and their guests to strengthen the community and deepen relationships.
South Avondale Elementary School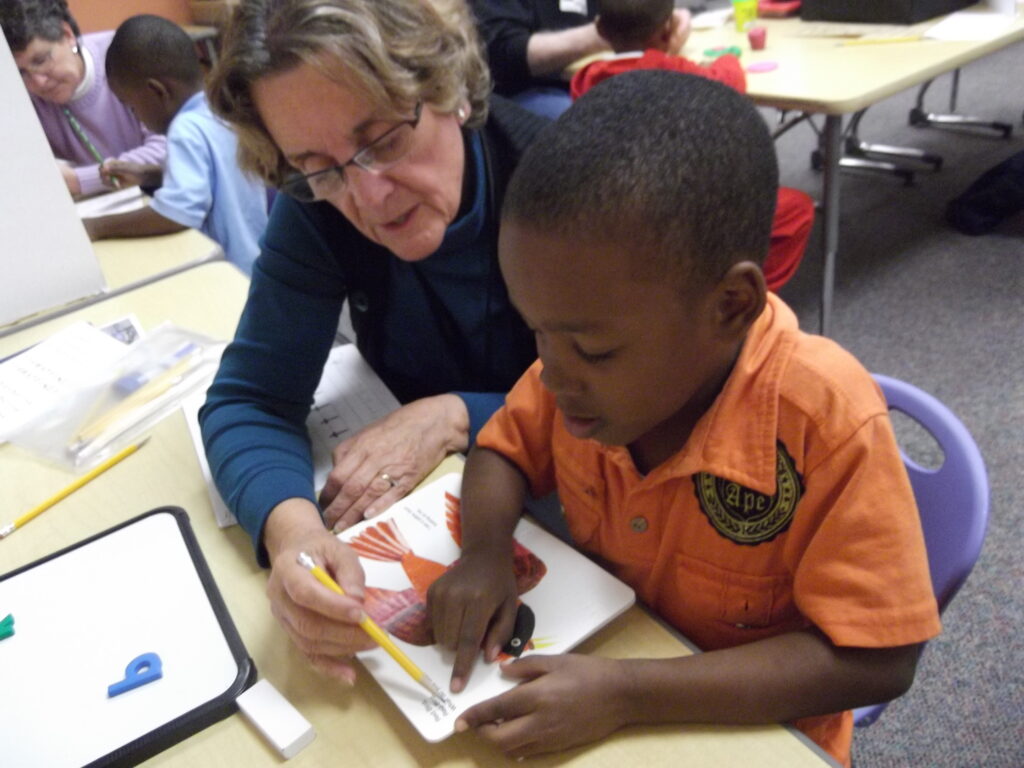 Members of 1st Church have been sponsoring a free bookstore for students at South Avondale Elementary School and tutoring the school's kindergarteners for more than 12 years. The working group has had many First Church volunteers involved, and many more members have donated thousands of books. In past years we gave multiple books to each child in a monthly book giveaway. Children's reading skills have improved with our involvement. We now have relationships with teachers, administrators and, especially, one-on-one relationships with children from the Avondale neighborhood.
1st Church Audio Visual Team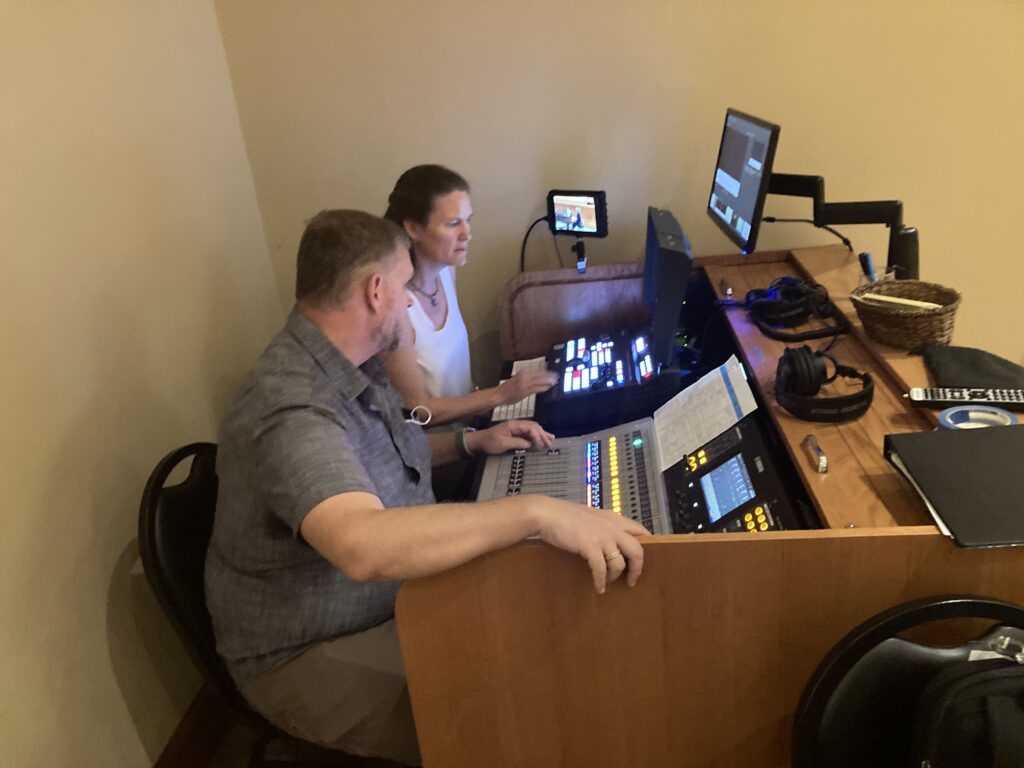 Provides sound and video support for 1st Church worship services & streaming, church events, and church rentals. Familiarity with computer and powerpoint is helpful. The team welcomes the opportunity for congregants to grow and learn with our sound mixers and equipment, our cameras and our video and streaming equipment.
1st Church Carter Social Justice Team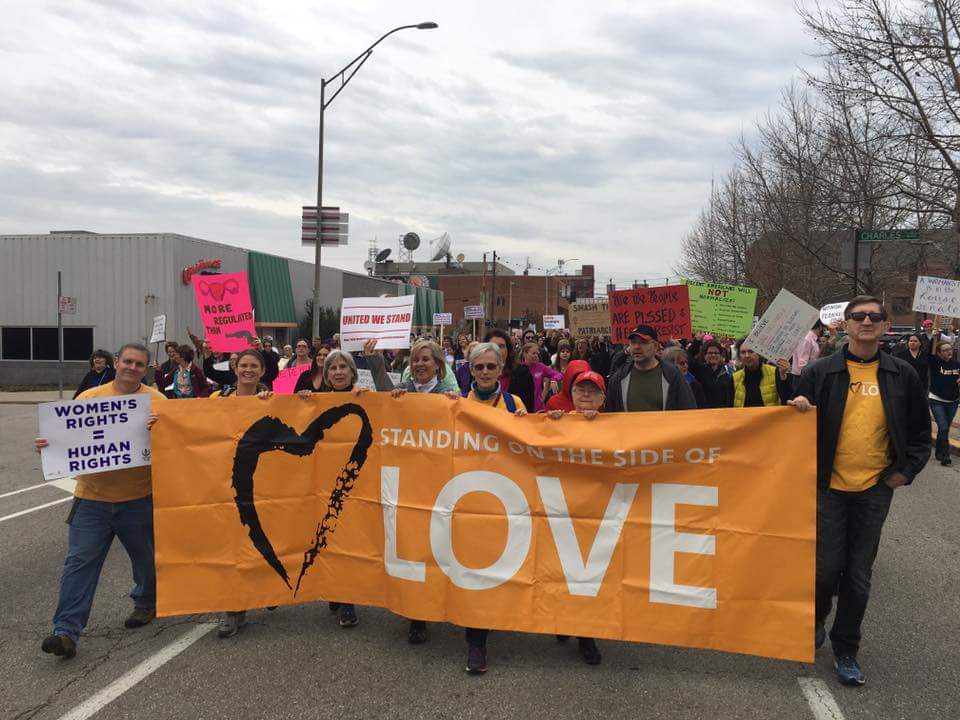 The Carter Social Justice Team addresses systemic causes and results of social injustice by involving members in community outreach efforts that align with the Church principles and mission. Sponsor and participate in Sunday worship services that highlight and support local grassroots organizations.
Interfaith Hospitality Network of Greater Cincinnati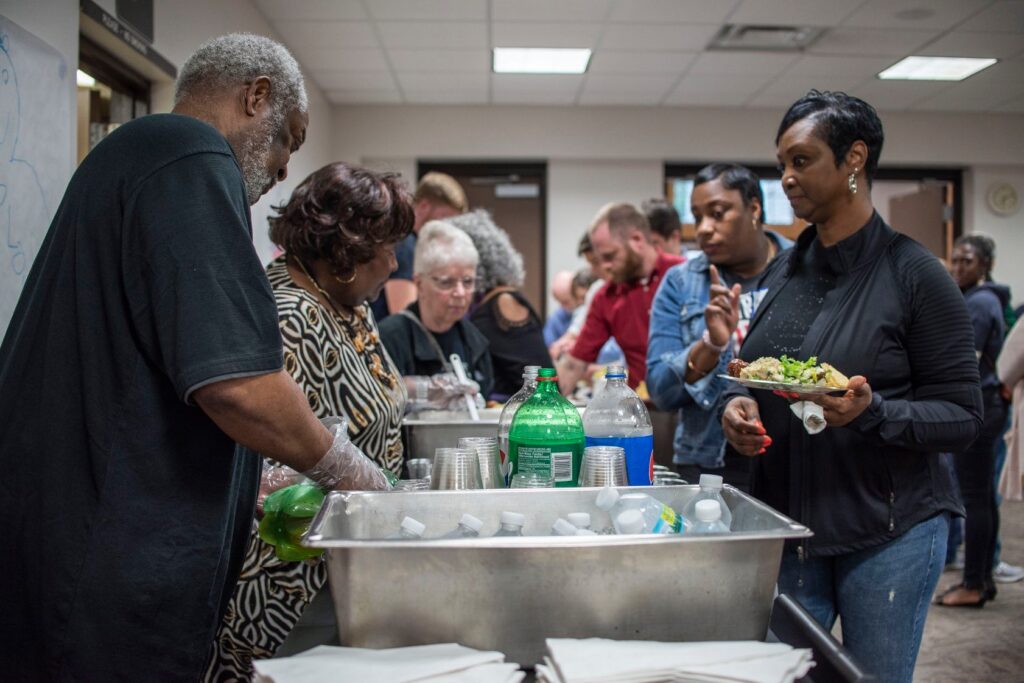 Since 1991, IHN has offered Emergency Shelter and community-based housing programs to meet the needs of families experiencing homelessness. The network has grown to include over 100 congregational partners, representing people of Protestant, Catholic, Jewish, Muslim and Unitarian faiths. Congregations throughout Cincinnati, including First Unitarian Church, provide overnight shelter and meals for homeless families in their Emergency Shelter program, while IHN's programs and case workers provide the tools, resources, and support that families need to overcome homelessness and achieve long-term stability. https://www.foundhouse.org/
Unitarian Universalist Service Committee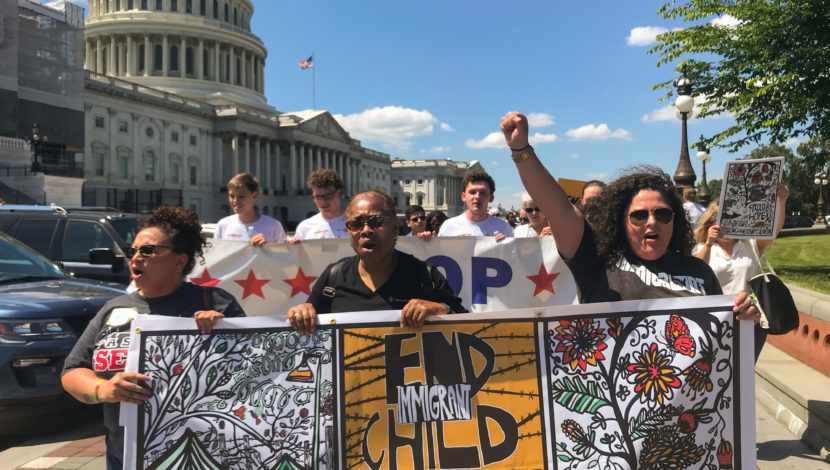 The Unitarian Universalist Service Committee (UUSC) is a nonprofit, nonsectarian organization advancing human rights together with an international community of grassroots partners and advocates. It focuses on intersecting roots of injustice to defend rights at risk due to criminalization and systemic oppression of people based on their identity. It supports self-determination and defends the rights of people displaced due to climate, conflict or economic hardships; and it responds to humanitarian crises as partners with people whose access to aid is most limited. https://www.uusc.org/
Unitarian Universalist Council of Greater Cincinnati

The Unitarian Universalist Council of Greater Cincinnati is a cooperative organization, made up of six UU congregations, drawing members from Hamilton, Butler and Clermont counties in Ohio, Boone, Kenton, and Campbell counties in Kentucky, and from Southeastern Indiana. The mission of UUCGC is to help our congregations make liberal religion more fulfilling to their members and to propagate our Unitarian Universalist principles in the greater community. https://www.cinciuu.org/
Metropolitan Area Religious Coalition of Cincinnati

M.A.R.C.C. Is a extremely valuable organization of different faith traditions who put differences aside to address the common good for all people, an example for society on how you can work together without losing your religious identity. It created the MARCC ID card to support a safer, more inclusive and welcoming community. The card is for any resident who may have limited access to government issued forms of identification and is recognized as a valid form of identification within the city of Cincinnati by police officers and city agencies. https://www.facebook.com/MARCConline/
The MidAmerica Region of the Unitarian Universalist Association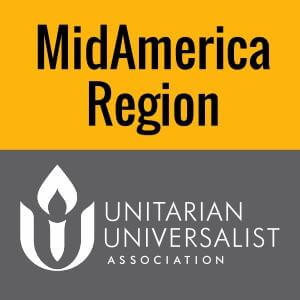 The MidAmerica Region of the Unitarian Universalist Association includes nearly 200 UU congregations in parts or all of these states: Illinois, Wisconsin, Indiana, Michigan, Missouri, Kentucky, Ohio, North Dakota, South Dakota, Minnesota, Iowa, Kansas, and Nebraska. It seeks to covenant with each other to find new ways of partnering, and seeks together to side with love for the flourishing of our world, our communities, our congregations and our members. https://www.uua.org/midamerica
Black Lives of Unitarian Universalism (BLUU)
Formed in the wake of several conversations among Black UUs at the July 2015 Movement for Black Lives Convening in Cleveland, OH, the BLUU Organizing Collective works to provide support, information, and resources for Black Unitarian Universalists. www.blacklivesuu.com
Diverse Revolutionary Unitarian Universalist Multicultural Ministries DRUUMM
DRUUMM is a Unitarian Universalist People of Color Ministry and anti-racist collective bringing lay and religious professionals together to overcome racism through resistance and transform Unitarian Universalism through our multicultural experiences. www.druumm.org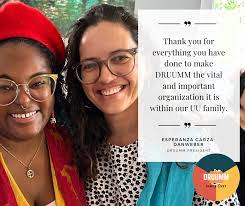 Transgender Religious Unitarian Universalists Together TRUUsT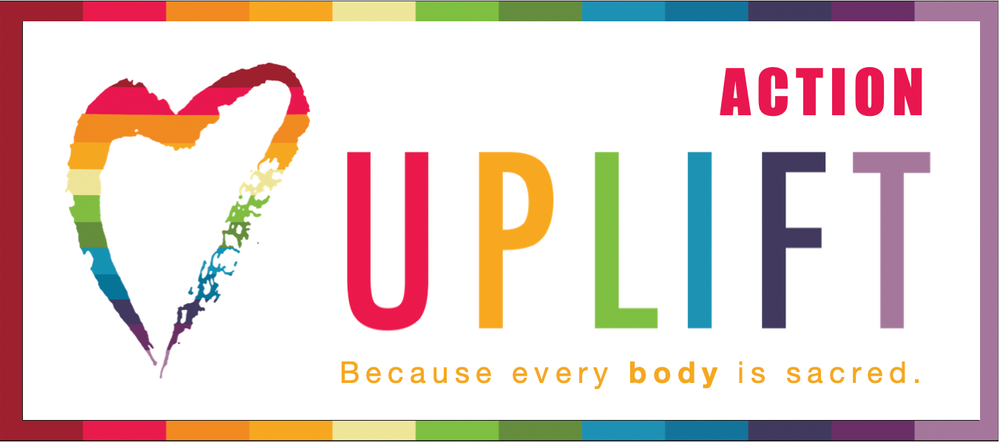 TRUUsT is an organization of trans Unitarian Universalists who are living out a call to ministry within Unitarian Universalism. Its mission is to advocate for the gifts, safety, liberation, and leadership of trans religious professionals in Unitarian Universalist ministries and institutions. www.transuu.org
Center for Social Justice, Urban League of Southwestern Ohio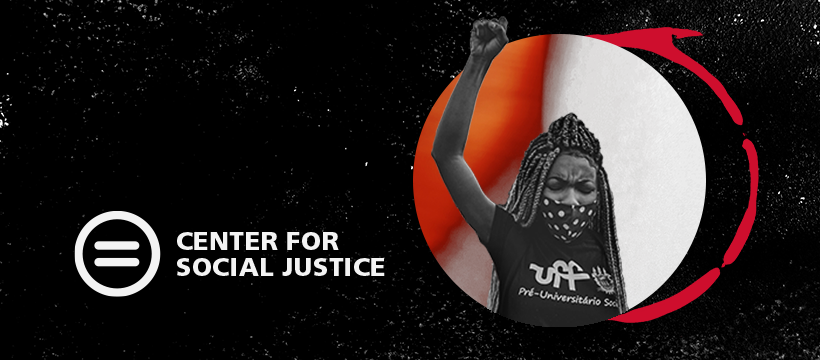 The Center for Social Justice is a Black-led initiative housed at the Urban League in Avondale. It is direct response to police violence that included the tragic killings of George Floyd and Breonna Taylor. The Center works to prevent police violence in our region before it occurs again, by partnering with communities and police departments to accelerate reforms in local jurisdictions. Its mission is to eliminate racial profiling, reduce uses of force, ensure police accountability and establish community oversight of police departments. In addition, the Center for Social Justice works on addressing voter suppression and emerging social justice issues. https://www.facebook.com/CSJatUrbanLeague/
Boys And Girls Club Of Avondale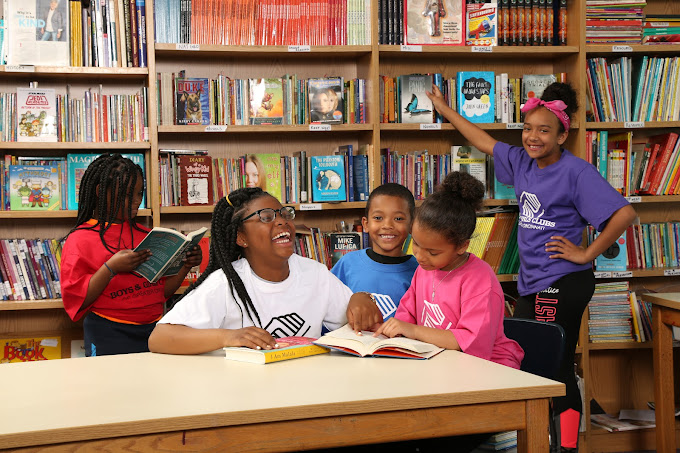 The Boys and Girls Club in Avondale, just a mile north of 1st Church on Reading Road has served a vital role in providing safe and supportive afterschool and summer engagement for inner city youth. Kids come to these centers after school for tutoring, meals, social and emotional growth and mentoring. The club deals with the ongoing uncertainty and challenges caused by the tridemic and the disruption in schools and after school activities. It continues to address to the great rise in mental health needs among school age children and has incorporated mental health support to these most vulnerable kids. https://bgcgc.org/contact/
Lighthouse Youth & Family Services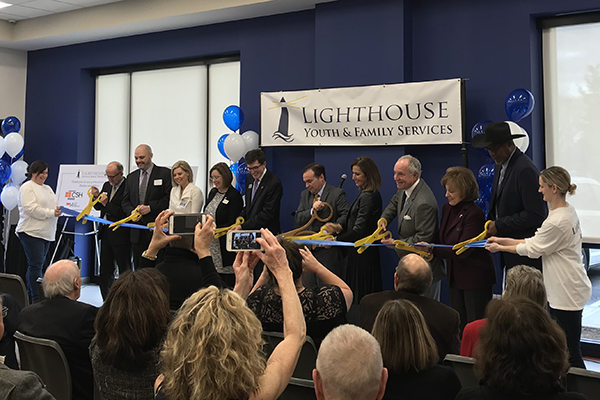 Lighthouse Youth & Family Services was established in 1969 to provide support to vulnerable teen girls coming out of the juvenile justice system. Lighthouse expanded its services and reach in the ensuing years, and today Lighthouse provides a continuum of services that assists over 4,000 youth and families each year in overcoming obstacles and barriers that prevent them from thriving. Lighthouse provides foster care and adoption, mental health services, juvenile justice services, shelters for homeless youth and young adults, residential treatment, independent living opportunities, and life skills training. https://www.lys.org/
Intercommunity Justice and Peace Center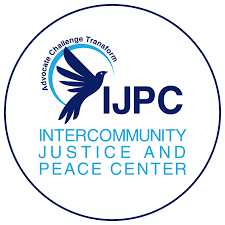 Founded in 1985 by five congregations of Catholic sisters, the mission of the Intercommunity Justice and Peace Center (IJPC) is to educate and advocate for peace, challenge unjust local, national, and global systems, and promote the creation of a nonviolent society. IJPC is supported by 22 faith-based organizations and many individuals from diverse backgrounds who work together to educate themselves and the public about social justice issues, take collaborative action, and organize public witness. IJPC addresses four core issues including the death penalty, immigration, human trafficking, and peace and nonviolence. https://ijpccincinnati.org/
The Cincinnati Recycling & Reuse Hub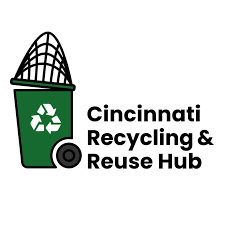 The Cincinnati Recycling and Reuse Hub (CRRH) aspires to revolutionize how people think about "things" and to provide a place where almost anything can be recycled or reused. It will reduce the amount of waste going to local landfills by creating a "one-stop" drop-off location for items that can be recycled or reused but that can't go into the traditional single-stream recycling bins. The "one-stop" model is unique in that it will save time, effort, and gas for donors, and it will allow more items to be recycled or reused than the current waste/recycling/reuse infrastructure for the Greater Cincinnati Area allows. https://cincinnaticares.org/
Working in Neighborhoods (WIN)

Since 1978, Working in Neighborhoods (WIN) has developed sustainable communities by empowering Cincinnati neighbors to build equity for themselves and their families and to develop win-win goals for their neighborhoods. WIN's strategy is organic, connecting shared neighborhood needs with broader economic resources. WIN supports people of all faiths and cultures in their pursuit of justice. WIN leverages partnerships to build support for home ownership, affordability of utilities, foreclosure prevention, and localities health and safety especially for African American families who have been red-lined out of home ownership for generations. https://wincincy.org/
Peaslee Neighborhood Center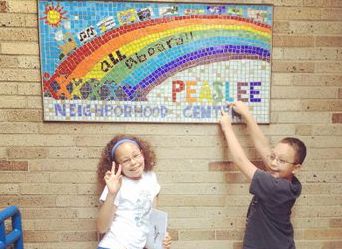 Peaslee Neighborhood Center is a peaceful place in Over-The-Rhine where residents create and engage in participatory education to foster creative expression, self-determination, and social change. Founded 36 years ago through a grassroots, community effort, Peaslee offers various enrichment programs to people of all ages; these include piano lessons, creative writing for young girls, summer camps, service-learning, extra-curricular engagement for teens, and social justice events. Peaslee's education on the injustices of gentrification includes a focus on advocating for and organizing for the equitable development of OTR neighborhoods. https://peasleecenter.org/
Help Program For Returning Citizens Hosted By The St Francis De Sales Parish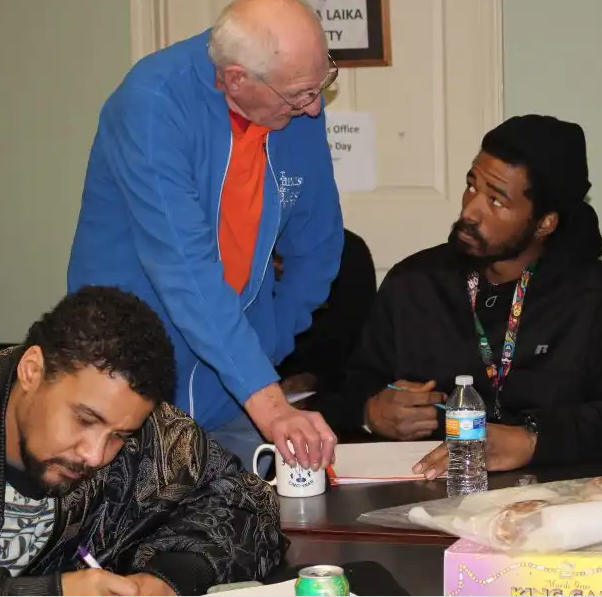 The HELP Program inspires hope for people who have been convicted of a felony. Our caring, faith-based community of support provides mentoring and resources to find and sustain employment. In doing so, it allows members, citizens returning public life, to become financially stable and contributing members of our society. Help is hosted by the St Francis de Sales Parish on Madison Road between Evanston and East Walnut Hills; it is supported as a National Catholic Campaign for Human Development (CCHD) Organization. https://stfrancisds.com/