Adult Learning This Month
Third Friday Tad Talks
Our church, and indeed our city, is filled with experts. Now you can learn from their expertise!. Join us for Third Friday Tad Talks* every month, via Zoom. With 15 minutes allocated to presentation, and 15 minutes allocated to moderated discussion, this is a quick and easy way for adults and youth to live into our third principle. Please note, all sessions will be recorded, and posted on First Church's YouTube channel for later viewing.
March's Tad Talk
Adult Faith Development is taking a break, a Spring Break to be exact.  There will be no Tad Talk this month.  In the absence of a Tad Talk, we encourage you to rest.  If you simply cannot rest, then you can catch up on Tad Talks by visiting our YouTube Channel (linked above).
*Tad Talk – Like a Ted Talk, only a Tad different.
UU & Me
This is a brand new once-a-month program for adults and youth that places participants into intergenerational pairings (e.g. Baby Boomer & Gen. Z; Millennials & Gen X; Gen X & Silent Generation, etc.) so that they may build connections and explore their respective spiritual journeys, together. Examples of monthly topics include "The Music that Made Us," and "Food for the Soul."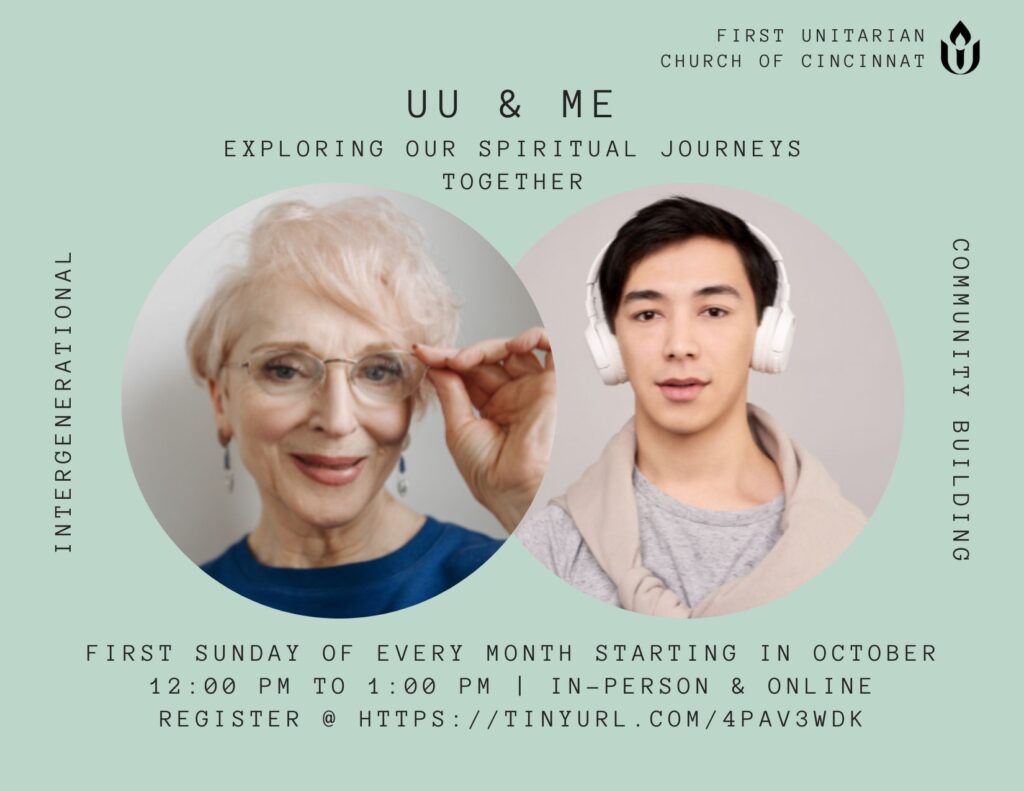 This program is offered both in-person and virtually the first Sunday of every month, from noon until 1:00 PM. Free childcare is available for all in-person participants. Sign up now, or wait until you have more time in your schedule – this program has rolling enrollment, so visitors and members are welcome to register anytime of the year! And, we hope you do. If you are new to First Church this is an easy way to get to build connection in a controlled environment!
You only need to register once to participate the rest of the year. Register here!
Book Discussion: Fiction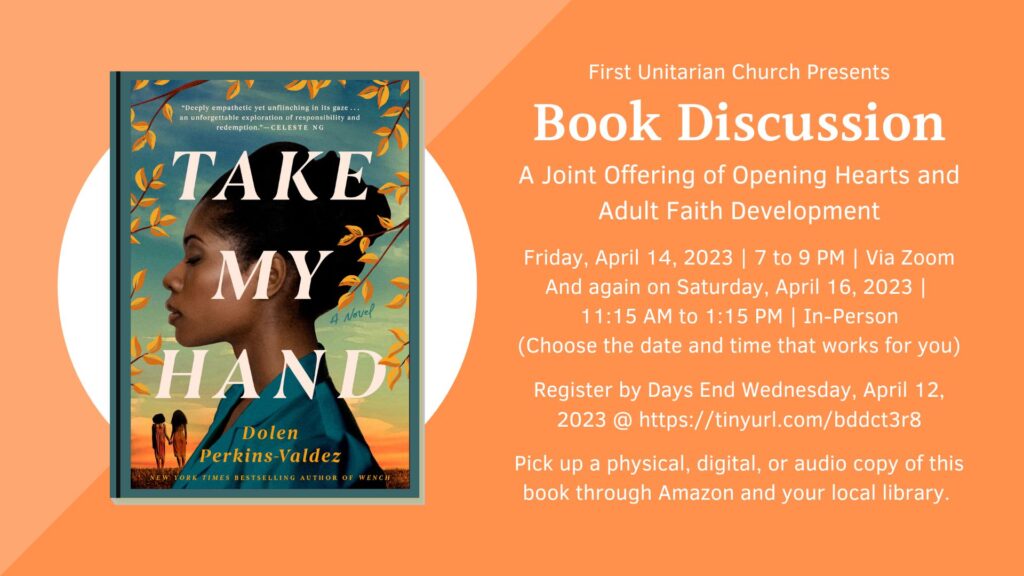 Adult Faith Development and Opening Hearts are teaming up!  Join us for a discussion of Take My Hand by Dolen Perkins-Valdez.  Inspired by true events that rocked the nation, and exploring themes of racism, eugenics, classism, and ableism in 20th century United States, Take My Hand is a profoundly moving novel about a Black nurse in post-segregation Alabama who blows the whistle on a terrible wrong done to her patients.
Due to increased demand, this book discussion is being offered twice!  Join us Friday, April 14 from 7 to 9 PM via zoom, or Sunday, April 16 from 11:15 AM to 1:15 PM, in-person.
Register by days end Wednesday, April 12, 2023.  Then, pick up a physical, digital, or audio copy of this book through Amazon or your local library.
Book Discussion: Non-Fiction
The Non-Fiction Book Discussion planned for May has been pushed back to August, which means you still have time to pick up a copy of Mistakes and Miracles: Congregations on the Road to Multiculturalism (Skinner House Books, 2019), the UUA's Common Read for 2022-2023!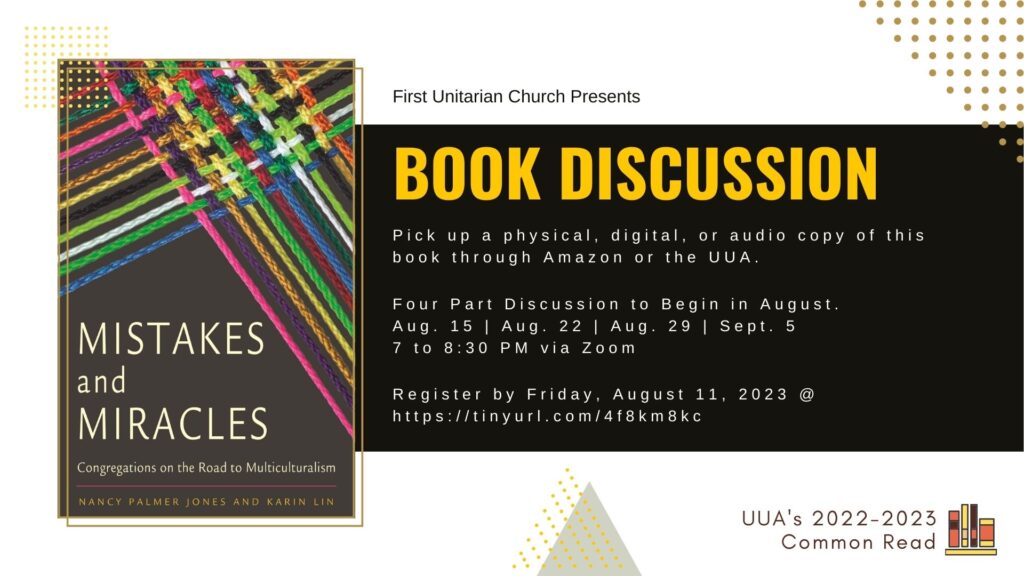 Today, UU congregations are grappling with a charge to dismantle white supremacy in ourselves, our communities, and our world. Co-authors Nancy Palmer Jones and Karin Lin—a white minister and a lay person of color—explored five UU congregations' journeys toward Beloved Community. In Mistakes and Miracles: Congregations on the Road to Multiculturalism, they shared the joy, disappointment, and growth these congregations found.
Discussion to take place over four Tuesdays starting August 15 at 7 PM via zoom (each discussion is expected to last an hour and a half). Registration is now open: https://tinyurl.com/4f8km8kc
Need a copy of the book?  Order physical copies of this book through the inSpirit bookstore, purchase a digital copy through Amazon Kindle, or listen to the audio book for free via the U.U.A.