Good evening First Church family,
At the Congregational Meeting on May 21, you will be asked to vote on adopting the 8th principle.

The Motion
"First Unitarian Church of Cincinnati, as a member congregation of the Unitarian Universalist Association, adopts the 8th Principle to covenant to affirm and promote journeying toward spiritual wholeness by working to build a diverse multicultural Beloved Community that by our actions accountably dismantles racism and other oppressions in ourselves and our institutions."
The Board hopes you've taken advantage of the numerous opportunities First Church provided for you to learn about, discuss, and consider the 8th principle and what its adoption would mean to First Church and yourself. We encourage you to vote with your heart and mind.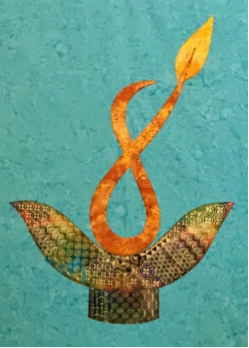 At the same time, we felt it was important to share our feelings about this issue. Our Board of Trustees enthusiastically recommends adoption of the 8th Principle motion that applies specifically to First Church (unlike Article II that applies to all congregations if it passes at 2024 GA). The Board is saying yes. The Board is also saying it's your turn, members of this Beloved Community, to decide if we adopt the 8th Principle or not. AND the Board is reminding everyone we are a Beloved Community and we respect each person and their reasons for their vote.
At the 8th Principle information sessions, adults and youth alike said that each of us and our congregation-at-large have honest, soul-searching, uncomfortable "inside" work to do if First Church. The 8th Principle is a commitment to a First Church climate that feels safe to those used to feeling like "outsiders" and wanting to feel like their authentic selves.
Our youth, our members of color, our members of gender fluidity, our members of various economic and class backgrounds – they tell us the 8th Principle should not be necessary and yet it is. They are asking – I repeat, they are asking – us to be upstanders and speak out by adopting the 8th Principle at First Church.
Let's listen to them, our often-marginalized members, and be the covenantal congregation we say we are.
You charged the Board – at a very rocky time in First Church's history – with assuring that our congregation would continue to have a vibrant future as a Beloved Community. It is clear that our congregation desires to be vibrant, inclusive, and spiritually alive. This congregation wants to grow – spiritually and in numbers – and we need to create space for that to occur. We are emerging from the turmoil of the past few years with a new minister and renewed energy. Let's capitalize on that energy and take-action. I don't know about you, but I'm tired of talking. I'm ready to do something. Your Board unanimously believes a new additional 8th Principle will take us to new levels of anti-racism anti-oppression and multiculturalism. We hope you're on board for the ride.
In covenant,
The 2022-2023 Board of Trustees